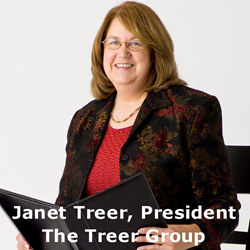 This eight-week program will equip new managers with an essential foundation for being effective leaders and managers.
Lancaster, PA (PRWEB) June 30, 2014
Janet Treer, President of The Treer Group, is working with the Lancaster Chamber of Commerce & Industry to provide new managers with the expertise to lead confidently, communicate effectively and manage intentionally. Janet has developed and will lead the Lancaster Chamber's New Manager Academy, which will take place in the fall of 2014.
"This eight-week program will equip new managers with an essential foundation for being effective managers," says Janet Treer, President of The Treer Group, a strategic planning, coaching, leadership development and management consulting firm based in Lancaster, PA. "A key focus and the core of this intensive program is leadership development."
The New Manager Academy sessions will be held every other Wednesday beginning on September 10 and ending on December 17. The schedule is as follows:
September 10: Introduction to Management - Orientation session and overview of the program. Includes awareness of human behavior, habits, motivation and engagement.
September 24: Successful Team Leadership - The role of a leader, types of leaders and understanding traits and behaviors of leaders and team members.
October 8: Management Skills: Strengths and Opportunities - Understanding one's own strengths and those of the team to leverage natural talents and create high performing teams.
October 22: Goal Setting for Success - The six components of goal setting, four types of goals and how goals increase success. Each participant will identify a project relevant to his or her job and work on it throughout the Academy.
November 5: Managing Time, Motivation & Confidence - Practical time management, ways to stay motivated and to motivate the team. Preparation for sharing projects with the group.
November 19: Creating & Managing Performance - Setting expectations, staff training and learning, feedback and sustaining performance.
December 3: Employee Evaluations, Delegations & Decision Making - How to provide useful and welcome feedback to employees, how to delegate effectively and understand that habits and attitudes impact decisions.
December 17: Wrap-up: Tying It All Together (Project Presentations) - Program recap and sharing of individual or group projects.
January 21: Optional Follow-Up Session - Reinforcement of the insights learned in the New Manager Academy. How are things working? Kick off the New Year.
To register and for more information, visit: http://bit.ly/newmanageracademy. Anyone may attend. Lancaster Chamber members receive a discounted rate.
"In today's business, team leaders serve as the main link between an organization's goals and the people responsible for daily activities that make those goals a reality," Says Treer. "The New Manager Academy will give new leaders an excellent start."
About The Treer Group: The Treer Group provides coaching, assessments, tools and guidance to help organizations and individuals identify areas in need of improvement, discover practical solutions and implement long-lasting change that comes from within. Janet Treer, President, founded The Treer Group in 2007.