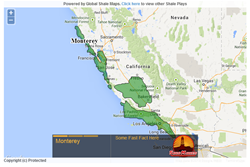 Sponsoring a map will present a powerful, geographically-targeted marketing tool for companies in the Oil & Gas Industry
(PRWEB) June 30, 2014
There are over 200 shale plays globally, and there are many maps of those plays. There are a couple issues with those maps. One problem is that the maps are not in one single, easy to find place. Another is that most likely going it will be a violation of copyright to post most maps on a website or to use in any other way.
In an effort to create a tool to educate the public, Shale Markets has started to create profiles for each of the shale plays. The profiles provide information, news, and of course, maps of the plays. Shale Markets, LLC. was presented with the challenge of maps that were inconsistent or copyright protected. To alleviate this problem, Shale Markets created the maps from scratch. The maps were created using Google™ / Bing™ Base Layers with Overlays, thus integrating a high level of interactivity into the maps.
The result is Shale-Maps.com AKA GlobalShaleMaps.com. When a user first enters the website, they are presented with a left navigator that lists the world regions. Under each region will be listed the major and minor plays in that region. Clicking on a region will zoom to that region and show all of the shale plays in that region. Turning off all shale plays but one will zoom to that shale play and show details, links and information about the sponsor of that shale play.
These shale play maps are easily added to a website by choosing the base layer (Google Physical™, Google Street™, Google Hybrid™ or Bing™). The user also chooses which shale play to show and the desired size. Code will then be presented that can be easily copied and pasted into a website. Each play will have a sponsor with information and a logo that will show up on all of the individual maps.
Sponsorships are available and help to fund the servers and the development. Currently there are 18 US Maps, but more are being developed every day. It is estimated that most shale plays in the world will be completed within 6 months.
Shale Markets, LLC. CEO, R. Pader, believes that there will be somewhere between 2-4 million map impressions in the first month, July 2014. "Sponsoring a map will present a powerful, geographically-targeted marketing tool for companies in the Oil & Gas Industry," says Mr. Pader.
Visit shale-maps.com today to view the maps that are available and to download them for use on a website, in a presentation or in print materials.