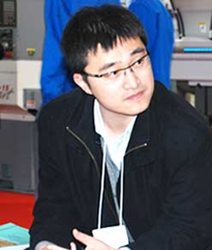 Zhengzhou, China (PRWEB) July 01, 2014
In abrasives industry, people may not quite familiar with Saint Gobain, but almost all abrasives manufacturers regard "Norton" brand as a familiar name. As a well-known brand owned by Saint Gobain, Norton brand was established early in 1885, Massachusetts with a history of 125 years. Its featured products are abrasives applied in machine manufacturing and maintenance. "Norton has not found the best role to play in China market yet." Guo Yunfeng, the general manager of Resin cutting & grinding disc, diamond saw blade, Saint Gobain Abrasives in China said when received an interview of iAbrasive reporter in April.
Safety-first Principle
"Saint Gobain has long put product safety in the first place", said Guo. According to iAbrasive, Saint Gobain Abrasives has received approval of all kinds of international quality management system as well as safety check system. As a result, all its products are up to the standard with high quality guarantee. Saint Gobain has strict control over product quality; each product will be checked by eight to nine full-time staff. In this way, more than 400 grinding wheels are exhausted per day on average, which illustrates the company's emphasis on product safety and quality.
China-rooted: A lively Market
Saint Gobain Abrasives has always devoted to bring the world leading technologies in China. With 15-year production and technology investment in China, Saint Gobain owns three manufacturing factories and one grinding technical center with nearly 1000 employees. The wide product range makes Saint Gobain the only supplier to offer clients a package service from cutting, coarse grinding to precision grinding and surface finishing.
In abrasives industry, Saint Gobain is the only multi-national cooperation with strong technical force and considerate service to achieve a win-win situation. The 15-year development in China gives full evidence to the promise that Saint Gobain is deeply rooted in China and will always provide best service to Chinese clients.
Innovation: Irrevocable Competitive Force
"Innovation is the source for Norton's powerful living force." said Guo. Innovation does not simply refer to new product launch. Offering products that always meet market demand and subverting traditional management ideas are good examples. For instance, Saint Gobain launched "Norton Bear" and "Clipper Series" designed for China hardware market. The specially designed products turned out favorable result.
Saint Gobain is an expert in technology and service with which product added-value is improved. Distributors can not only gain growth opportunities but also think highly of Saint Gobain company image.
Challenge & Opportunity Co-exist
When confronted with 2013 crisis, we see both challenge and opportunity." Guo said.
It was not until 1990s when China hardware industry really started. Before 2008, Saint Gobain put little emphasis on hardware market and China has rarely famous brands. In 2008 when economy crisis hit national economy, China took a series of policy adjustment, including "low-carbon economy and product restructuring, enhance investment in infrastructure", etc. the measures have driven the development of relevant industries and offered more opportunities for abrasives industry. Saint Gobain discovered the strong demand of China and enjoyed an even greater market share.
Product Localization
"Saint Gobain plans to further promote 'Norton Bear' and considers adding new brands, including high-end product series." Guo continued, "Saint Gobain targets at new product launch, brand establishment, quality and service guarantee to broaden sales channels in China hardware market."
After the successful launch of "Norton Bear", Saint Gobain developed Norton "Expert" resin cutting & grinding disc, which is popular for its safety, high performance and durability. In addition, the company brought in some machinery products like cutting machines and took low carbon into consideration. Saint Gobain has achieved beneficial results in diamond saw blade noise reduction and developed high-performance silent blades which may come to China in the near future.
For more information, please visit: http://www.iabrasive.com/.