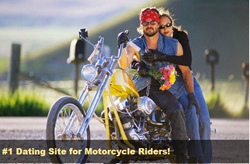 Los Angeles, California (PRWEB) August 05, 2014
Is riding motorcycles a popular sport in your state? The premium online dating community that specifically caters to motorcycle enthusiasts, BikerKiss.com, carried out a survey at the beginning of August in which the members on its website were asked which state they lived in. Members who took the survey were all US citizens.
"We did this survey so we could estimate which state has the most biker singles," said Brian, marketing department manager of BikerKiss. "We hope it could provide our users with some useful information."
The result showed that 9.6% of US members on BikerKiss came from California. It was not surprising since California has a very large population. Following that, the second and third place went to Florida and Texas, each of them respectively taking up 6.9% and 5.3% of all members surveyed.
"Given the fact that almost everyone who took the survey is still single, we could say that the result somewhat gave us some reference on which state biker singles tend to live in," said Brian. "However, this result is still kind of lacking if it's applied to 'nationwide' because it's only based on our site and it's an estimation after all."
The 4th to 10th place went respectively to Pennsylvania (4.9%), Ohio (4.7%), Illinois (4.2%), New York (4.2%), New Jersey (4%), Wisconsin (3.8%) and Michigan (3.7%).
Visit BikerKiss.com for more of the details.
About BikerKiss:
BikerKiss is world's first, largest and most effective biker dating site for biker singles who are looking to meet other biker friends. It is a best place for bikers and friends to get to know each other, establish relationship and talk about their interests, or to help each other.