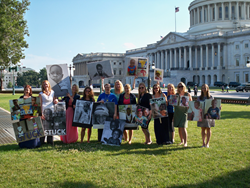 Congressman Chis Smith (R-NJ): "Congress has your back."
Washington, DC (PRWEB) June 30, 2014
Both Ends Burning, a nonprofit advocacy organization dedicated to defending every child's human right to a permanent loving family, today announced that Congress is responding to its campaign to help adoptive children who are stuck in the Democratic Republic of the Congo (DRC).
More than 55 American adoptive families, from among 750 such families nationwide, traveled to Washington, DC to personally make their cases in meetings with more than 100 Members of Congress. These families, led by Both Ends Burning, asked their Senators and Congressmen to help in getting hundreds of legally adopted Congolese children, some of whom are medically fragile, home from the DRC.
During their meetings, families presented Members of Congress with a letter requesting a Congressional delegation travel to DRC. They also asked Members to demand the US Department of State remain engaged at the highest levels with DRC's government to resolve this crisis while allocating more resources to handle adoption case processing so that children can be united expeditiously with their families once adoptions reopen.
Representative Ed Royce (R-CA), Chairman of House Foreign Affairs Committee, invited the families to attend a hearing on June 26 where the committee considered HR588, legislation urging the resumption of adoptions in the DRC. As the families stood, the bill was unanimously approved. Addressing the families, Congressman Chis Smith (R-NJ) stated: "Congress has your back." Congressman Scott Perry (R-PA) who committed to contacting the Department of State weekly for updates on behalf of his constituent families said: "We owe it to the children to bring this to a successful resolution." Representative Collin Peterson (D-MN), who introduced HR 588, said the bill has "seen strong support on both sides of the aisle" and is hopeful that the full House will soon schedule it for a vote.
The families also held a candlelight vigil on Capitol Hill in honor of all the waiting children and in special remembrance of ten children who have died while awaiting permission to join their adoptive families.
"This crisis has grown in size and urgency for the last ten months, and it is a welcome change to have the full attention of Congress and their commitment to bring these children home," said Kelly Dempsey, Counsel and Director of Outreach and Advocacy for Both Ends Burning. "The families' voices have at last been heard in DC and we are heartened by the support received from the many offices we visited."
For more information: bothendsburning.org/DRC.
To sign the petition: http://www.petition2congress.com/14960/please-help-resolve-pending-adoptions-from-democratic-republic-co/.
About: Both Ends Burning is a nonprofit advocacy organization dedicated to defending every child's human right to a permanent loving family. Learn more at http://www.bothendsburning.org.
###