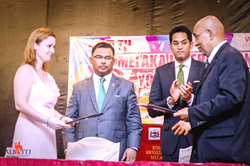 "Education is the most powerful weapon which you can use to change the world." - Nelson Mandela
Washington, DC (PRWEB) June 30, 2014
LTT Global Communication's CSR initiative MyMobileUniversity and the World Assembly of Youth, http://way.org.my, signed a strategic alliance at the closing ceremony of the Melaka International Youth Dialogue.
This signing is of significant importance to both organisations, as MIYD http://way.org.my/miyd2014 had as its theme this year, "Youth and Education: Taking Action, Getting Results". WAY is using MyMobileUniversity among its platform to empower youth globally through education in line with the universal goal of "education for all"; to ensure all young people have the right to education. One of the United Nations Millennium Goals is to achieve universal primary education. MyMobileUniversity provides access to primary education channel for children on its web site http://www.mymobileuni.net
The Melaka International Youth Dialogue annual programme of the World Assembly of Youth brings together young people, youth leaders and relevant stakeholders from around the world to discuss pertinent youth issues such as education.
Mr Wemel Cumavoo, CEO, MyMobileUniversity (MMU) delivered paper "Technology and Education Key to Youth Success" and was well received and attended youth organisations will bring web based ICT programs to their countries to empower youths. For MMU offers learning on the go that is crucial to one's success by providing them with scalable, online mobile and elearning solutions for all ages covering academic, lifestyle and lifelong learning.
The Secretary General of World Assembly of Youth, Ms. Ediola Pashollari, in closing remarks noted how grateful she was for the adoption of the 14th MIYD Draft Declaration and the level of commitment demonstrated by those present during the dialogue.
"MyMobileUniversity is constantly seeking partners, alliances and Ambassadors globally and like to invite universities, companies, NGOs', and public and private institutions to create awareness and also to make available content to power human capital development on our platform to reach out to both the local and international market as we aspire to create a knowledge based society and to promote lifelong learning," said Dr. Lawrence, Country Director (USA).
For more information, please contact author of press release:
Dr Lawrence Wasserman,
Country Director, USA
dr(dot)lawrence(at)MobileUni(dot)com
Tel:+1.301.424.1383 Cell:+1.240.462.3471
Corporate HQ
Rani Wemel,
Co-Founder/COO
founders(at)MyMobileUni(dot)com
Tel: +603.78777023