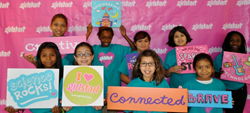 Austin, Texas (PRWEB) June 30, 2014
Girlstart has announced the recipients of its second annual Women in STEM Awards, honoring four women who have made significant impacts in their fields and communities utilizing their STEM education. The award recipients will be honored as part of Game Changers, Girlstart's annual luncheon event, which takes place this year on Thursday, Oct. 30 at The Westin Austin at The Domain. Girlstart will also honor a corporate STEM Champion, a Girlstart Alumna, and a STEM Advocate, to be announced closer to the Oct. 30 event. This year's keynote speaker will be social entrepreneur Jessica Shortall, who built out the "One for One" strategy as TOMS' first Director of Giving.
Honorees include:
Dr. Ellen Ochoa, Director of the Johnson Space Center in Houston, Texas, who in 1991 became the world's first Hispanic female astronaut and has logged more than 950 hours in space;
Dr. Marye Anne Fox, distinguished professor of chemistry at the University of California, San Diego and the university's seventh chancellor, who in 2010 was presented with the National Medal of Science, the highest honor bestowed by the United States government on scientists, engineers and inventors, by President Barack Obama;
Adriana (Andi) Karaboutis, Vice President and Global Chief Information Officer for Dell Inc., who has spent over 20 years in leadership positions at Fortune 500 Companies; and
Meg Wilson, senior lecturer at the McCombs School of Business at The University of Texas at Austin and fellow at IC2, has had a leading role in shaping Austin's culture of entrepreneurship. Meg also wrote the book, Options for Girls: A Door to the Future, that inspired Girlstart's founding.
"We're excited to continue highlighting the ways that women make a difference through STEM," said Tamara Hudgins, executive director of Girlstart. "This year's Women in STEM show what's possible for women and girls who dedicate themselves to pursuing STEM majors and careers. Girlstart girls--as well as our community of donors and friends--will learn from a diverse group of inspiring women who will encourage them to take on great challenges."
Sponsorships are still available for Game Changers, and a limited number of individual tickets will be available starting in August. More information on the event, including more on the award honorees and a list of current sponsors, is online at http://www.girlstart.org/game-changers.
ABOUT GIRLSTART
Girlstart, founded in Austin in 1997, is the only community-based informal STEM education nonprofit in the nation specifically dedicated to empowering and equipping girls in STEM, through year-round programming that promotes girls' early engagement and academic success in STEM, encourages girls' aspirations and persistence in STEM education and careers, and incubates a talented and diverse STEM workforce. Its innovative, nationally-recognized programs include after-school and summer camps for students, professional development for teachers, and community and online STEM education outreach programs.
Girlstart cultivates a culture where risk is rewarded, curiosity is encouraged, and creativity is expected. As a result, Girlstart girls are connected, brave, and resilient. Girlstart makes girls more successful, and inspires them to take on the world's greatest challenges.