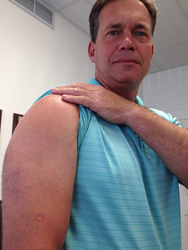 I never go in the sun without it.
Fort Myers, FL (PRWEB) July 01, 2014
A few years ago, creator of the iTanSmart app, President of UV Technologies, LLC, Kevin McGuire, began noticing age spots on his face resulting from years of overexposure to the sun. Realizing that a method of eliminating the guesswork from sun exposure had yet to be created, McGuire grew determined to change that. As a graduate from the University of Rochester's Institute of Optics, he set out to utilize his optical engineering background to create a means to self-monitor sun exposure using a smartphone. Subsequent to his extensive research and development came the introduction of iTanSmart to the Apple App Store.
Unfortunately, as McGuire reveled in watching his app come to fruition, an ironic twist of fate occurred. This past May, the avid outdoorsman was diagnosed with Basal Cell Carcinoma skin cancer— the most common form of cancer with which roughly 3 out of 10 Caucasians will be diagnosed in their lifetime. "[BCC] is common and not deadly, but a sobering reminder of what too much sun can do," says McGuire. This month, McGuire underwent a dermatological procedure called scrap and burn to have his Basal Cell removed. The surgery required a local anesthesia, and was described by McGuire as slightly painful. After enduring this experience, he is more determined than ever to get iTanSmart in as many hands as possible to prevent the risk of skin cancer among users.
iTanSmart is a patented suntan app for Apple iPhones, iPods, and iPads. The app is loaded with unique features to help prevent sunburns, skin damage, and skin cancer. By using real-time UV Index data to keep track of your time the sun, iTanSmart minimizes your risk of overexposure to harmful UV rays. To use, sunbathers enter criteria such as skin type, sunscreen protection factor (SPF), and location type. From there, the app alerts users with audible chime and screen notification when it is time to leave the sun or reapply sunscreen, and when maximum Vitamin D production has occurred— all prior to overexposure.
The app is free to download and use, and a full paid version (only $1.99) blocks advertisements, tracks users' totally daily Vitamin D production, offers specialized settings for children, and provides a list of medical conditions and related drugs that increase one's sun sensitivity.
There's no sense in blindly braving the UV rays this summer, when cases of skin cancer and premature aging skin are so alarmingly high. Today, you may not be able to see the cumulative damage the sun is having on your skin. However, with no warning, the sun's painful and potentially dangerous effects can have a grievous impact.