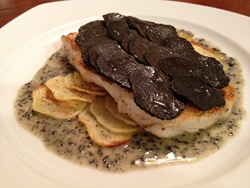 Black truffles from Australia are as aromatic and flavorful as French black truffles.
Reno, NV (PRWEB) June 30, 2014
Black truffles are most commonly associated with France, and the celebrated Perigord truffle region, where black truffles are in season from early December until mid to late March. In contrast, black truffles from Australia, a country with seasons opposite of the Northern hemisphere, are in season from early June to mid August, with peak maturity from mid July to mid August.
According to Mirepoix USA, a leading online purveyor of specialty gourmet foods and traditional French foods, black truffles from Australia are the exact same species as the famous French Perigord truffles (Tuber melanosporum), offering parallel aroma intensity and flavor profile. Mirepoix USA's premium Australian truffles are harvested from a Southwest Australian truffle plantation, which contains trees which were purchased in France and inoculated with truffle spores in France.
Laurel Pine, Mirepoix USA Founder stated, "Black truffles from Australia are as aromatic and flavorful as French black truffles. Because winter black truffles grown in Australia are available during our summer, there is a unique opportunity to pair black truffles with summer foods such as figs, white asparagus, and steaks grilled on the BBQ."
According to Mirepoix USA, black truffles are best when cooked because the heating process releases the wonderful truffle flavor and aroma. Thin slices of black truffles can be placed under the skin of uncooked poultry such as duck or pheasant. Black truffles also pair well with many other meats, including beef and pork and game meats such as venison, boar and elk. Fish and seafood are equally good with black truffles, especially white fish such as cod, sea bass or halibut, or shellfish such as lobster or scallops. Black truffles are also wonderful in sauces made with hearty wine, brandy, cream, or butter.
Mirepoix USA states that consumers should be aware that all truffles, including black truffles from Australia, should be wrapped in an absorbent cloth such as a paper towel and stored in an air-tight container. The towel should be changed daily to avoid moisture collecting or mold developing. Truffles can lose up to 3% of their daily weight, and should be consumed within a week. For maximum flavor and aroma, black truffles should be used immediately upon receipt.
Mirepoix USA sources the highest quality specialty gourmet foods from manufacturers and importers across the United States. The company began marketing foie gras and other traditional French foods in 2004, and currently offers over 40 foie gras selections, fresh truffles (black truffles, white truffles, summer truffles and Burgundy truffles) caviar, Wagyu beef, Iberico ham, domestic and imported cheeses, and a wide selection of gourmet gift baskets and gourmet food. In 2012, Mirepoix USA began offering live luxury food tasting events in the US and food and wine tours in Europe and the US.
To purchase fresh Australian black truffles from Mirepoix USA, visit http://www.mirepoixusa.com or call 866-992-9559.