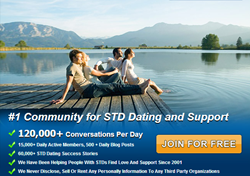 Los Angeles California (PRWEB) July 07, 2014
PositiveSingles.com, known to hold a number of interesting debates on their website, recently asked members whether they should let their partner know that they are infected with herpes in respect to a sexual relationship: before, during, or after sex in cases where no preventative measures are taken by either party.
The users who participated in the debate had varying answers. 71.93% stated that herpes should always be disclosed before sex, regardless of the attitude that their partner has. Those members believe that it is their responsibility to stop the spread of the virus, and that it's best to communicate when herpes is present, regardless of whether the person who is positive with the infection will have any contact with the other partner again.
While the first answer was most common, 28.07% of the members who took part in the debate stated that herpes is too common to make a big fuss about, because it is passed all of the time during casual sex, and disclosure is not necessary. They based their viewpoint on the fact that most people who are infected don't even know it, so it's often passed from one person to another without disclosure. Those members did, however, believe that preventative measures should be used, and they thought that should be enough, as anyone who has casual sex already knows that they are exposing themselves to a certain number of risks.
"Although we empower our members to make choices that best fit their personal and sexual lives, PositiveSingles.com advocates for full disclosure before putting someone at risk," stated Positive Singles' Spokesperson, Jenelle Marie. "Our platform provides a safe space for users to communicate with the community at large, to develop healthy and conscientious relationships, and to learn how to have some of the tougher conversations surrounding disclosure."
If you'd like to learn more about the world's No. 1 site for dating while living with an STD, kindly visit http://www.PositiveSingles.com.
About PositiveSingles
PositiveSingles.com is known as one of the biggest dating sites in the world that caters to those who are living with STDs. Together, with the great features it offers, the site also promises not to share anyone's information with a third party and aims at keeping all of its users secure.
Media Contact
Jenelle Marie
mediapress(at)successfulmatch(dot)com
Spokesperson of PositiveSingles.com