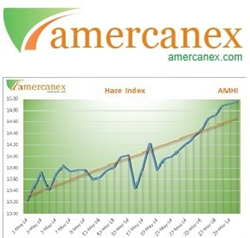 CMO – Robert Ruiz states that the solution for Revenue Tracking, transparency and cost efficiency will bring a new level of understanding between State and Local agencies and the Cannabis Industry.
Boca Raton, Florida (PRWEB) June 30, 2014
Amercanex / The American Cannabis Exchange has a solution for Revenue Tracking, transparency and cost efficiency for the Cannabis Industry.
Due to our revenue tracking breakthrough and the extreme respond from investors, Amercanex is opening up membership one day early, June 30th, 2014.
Amercanex finds a solution for the revenue problem. Revenue tracking has been plaguing the Cannabis Industry from its conception. This has been a road block between the State Agencies and the Cannabis Industry. Amercanex has realize this and focus their developers on the task of resolving this issue. They had a breakthrough over the weekend and the Amercanex ACE Marketplace can now calculate revenues and deliver reports that both regulators and participants in the Cannabis Industry can utilize.
Amercanex was due to open membership July 1st, 2014 and have been overwhelm by investors who understand the significance of having a comprehensive ECM (Electronic Cannabis Market) in which wholesale and retail distributors of cannabis can sell, buy, or exchange their inventories on a central electronic platform that sets the standard for efficiency, regulatory reporting, and innovative technology.
For the first time in Cannabis History participants will have a cutting-edge platform to answer their needs and also the local and regional governing authorities. Amercanex will bring a diverse client base of market participants, true price competition, tailored solutions to suit client's needs, complete access over the internet with a fully managed infrastructure, flexible real-time and historical market data and 24-hour client service and support.
Amercanex is proud to have found a solution to revenue tracking and is prepared to help the Cannabis Industry find its real place as one of America's fastest growing markets.
To learn more about Amercanex and how to become an owner in Amercanex visit us at http://www.amercanex.com.