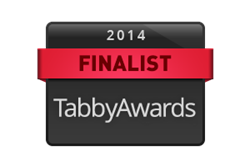 Hoofddorp, The Netherlands (PRWEB) July 02, 2014
LetterSchool is a finalist at the Tabby Awards app competition. The educational game app is nominated for two awards in the category Kids&Family. Being a finalist confirms that experts are impressed by the game's innovative approach to handwriting instruction, its outstanding quality and high replay value.
The Tabby Awards is the only competition that selects the best apps on a global level. Over 200 tablet apps from publishers in 20 different countries entered the Tabby Awards competition earlier this year. The international judging panel of independent app professionals, including officials from the Entertainment Consumer Association (ECA), selected LetterSchool as a finalist in the category Kids&Family.
In LetterSchool young children learn all about letters and numbers: writing, counting, phonics and more. They work magic as they write letters and numbers with sparkling candy, squealing tires, cuddly animals and whistling trains. The wide variety of games captures the attention and keeps players practicing their letters and numbers, over and over again.