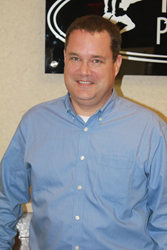 In today's healthcare marketplace, it's vital to have a strong IT Manager on your team.
Newport News, Va. (PRWEB) June 30, 2014
Tidewater Physical Therapy is pleased to welcome Stephen Carlson to its corporate team as its new Information Technology Manager.
Tidewater Physical Therapy is an independently owned outpatient practice with more than 30 clinics spread across Southeast and Central Virginia, as well as three Performance Centers in Suffolk, Newport News and Gloucester, Va.
Carlson joins the Tidewater Physical Therapy team following a near 10 year tenure at Office Automation Systems, Ltd. where he was a network engineer for the network security and services firm.
Carlson has served in a variety of systems roles since earning his Bachelor's Degree from Ohio's Kenyon College in 1988.
"In today's healthcare marketplace, it's vital to have a strong IT Manager on your team," said Jeff Verhoef, Tidewater Physical Therapy's CEO. "With 33 clinics and nearly 300 team members working with patients in some capacity, staying connected to them and to each other is an important part of our business and of our patient care."
Take the use of electronic patient records alone. The use of these digital records is growing and more physical therapists and physical therapist assistants are using electronic documentation in their facilities/clinics, according to the American Physical Therapy Association (APTA).
Tidewater Physical Therapy, for instance, invested this year in an upgraded electronic medical record system, Verhoef said.
"Steve has been an enormous help to our entire team through this transition."
Understanding the nuances of electronic documentation and critically evaluating and implementing electronic systems is difficult for most clinicians, the APTA reported.
That's where Carlson and his team comes in.
"I think it is truly a privilege to work in the Health Care Information Systems field. While we work in the shadow of our clinical staff, and a patient will rarely if ever see us, it is our constant mission to empower our therapists to deliver the highest quality care with ease and efficiency," Carlson said.
To learn more about Tidewater Physical Therapy, visit http://www.tpti.com.