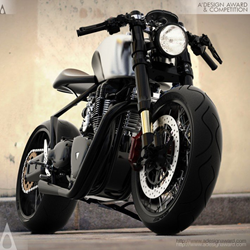 Como, Italy (PRWEB) June 30, 2014
A' Design Award and Competition is pleased to announce that the motorcycle concept design Black Shadow H-E by Mark Norton Menendez has been awarded with the notable Platinum A' Design Award in Vehicle, Mobility and Transportation Design Category chosen as one of the winners by the international judging committee of the A' Design Awards & Competitions within thousands of entries.
More on Black Shadow H-E Motorcycle Concept
Mark Norton Menendez, the lead designer of the awarded work Black Shadow H-E says "Reminiscent of the vintage splendour of the 50s and 60s, the inspiration for this project comes primarily from the simply rugged design of these age-old motorbikes. However, in fitting with modern society's ecological ideals, the Black Shadow H-E utilises hybrid technology, producing a modern, environmentally friendly bike that draws on the simplistic beauty of vintage styling. Combining old styling with new and future technology, the motorcycle maximises the use of a range of materials whilst maximising the power to weight ratio." Learn more: http://www.adesignaward.com/design.php?ID=30822.
The Platinum A' Design Award
The Platinum A' Design Award is a prestigious award given to top 1% percentile designs that has attained an exemplary level of perfection in design. Entries to the A' Design Award & Competition are judged by an international influential expert jury panel composed of established designers, eminent scholars and prominent press members. Laureates of the A' Design Award & Competition are given the A' Design Prize to celebrate the success of winning the competition. The A' Design Prize includes a series of pr and publicity tools to help the award winning designers get the publicity they deserve.
About A' Design Award and Competition
A' Design Award and Competitions are organized annually in a wide range of industrial design categories. The ultimate aim of the competition is to create a global awareness for good design practices and principles worldwide and to achieve this goal, every year A' Design Award and Competition highlights designers, product manufacturers and brands worldwide who come up with great designs and products. To learn more visit: http://www.whatisadesignaward.com.