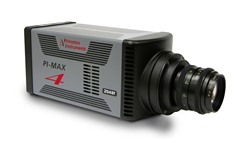 The large 27.6 mm x 27.6 mm imaging area of the new PI-MAX4:2048f ICCD camera is truly a compelling advantage...
Trenton, New Jersey (PRWEB) July 01, 2014
Princeton Instruments is pleased to introduce a new member of the PI-MAX®4 family of scientific ICCD cameras: PI-MAX4:2048f, the world's first 2k x 2k resolution fiber-optically coupled, intensified camera. In addition to the proven technological advancements of the remarkably precise and intelligent PI-MAX4 platform, the PI-MAX4:2048f provides an impressive four times the resolution of any other available intensified CCD camera.
"The large 27.6 mm x 27.6 mm imaging area of the new PI-MAX4:2048f ICCD camera is truly a compelling advantage, as it allows significantly more data collection for experiments in which time is critical and the samples themselves may have been difficult to procure," explains Scott Young, Imaging Product Manager at Princeton Instruments. "Key application areas include shock wave physics, neutron research, combustion studies, and planar laser-induced fluorescence [PLIF]. This state-of-the-art camera will provide more publication-ready data in less time, enabling researchers to focus on science instead of their equipment."
The highly sensitive PI-MAX4:2048f, with Gen II or Gen III filmless intensifiers, is the only ICCD camera on the market today to offer high frame rates at 6 MHz / 16-bit digitization, as well as a 1 MHz sustained gating repetition rate. An integrated programmable timing generator, SuperSynchro, built into the new camera makes it ideal for time-resolved imaging and spectroscopy applications.
Furthermore, the latest Princeton Instruments LightField® data acquisition software, available as an option, affords complete control over all PI-MAX4 hardware features via an exceptionally intuitive user interface. LightField provides precision exposure control and a host of innovative functions for easy capture and export of imaging and spectral data.
The PI-MAX4:2048f joins the renowned Princeton Instruments PI-MAX4 family, an impressive product line, whose members include cameras capable of <500 picosecond gating, the world's first emICCD cameras that combine EMCCD and ICCD technologies to deliver single-photon sensitivity with gating capabilities, and advanced "RF" cameras for frequency-domain imaging applications.