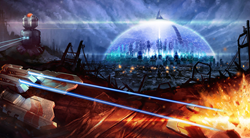 "Success in creating AI would be the biggest event in human history. Unfortunately, it might also be the last." - Stephen Hawking/Stuart Russell/Max Tegmark
Tampa, FL (PRWEB) July 16, 2014
In a society that depends more and more on technology, a new video game offers a look at what the future could bring if the machines took over – and gives players the opportunity to save the world from a robot rebellion.
The mobile turn-based strategy game Lords of Steel: AI Wars, to be released in early 2015 by Sparrow InterActive, presents a backstory that bears similarity to current technology and anticipated technological advances.
In this futuristic setting, robots take over an increasing number of human jobs, including those of soldiers, eliminating the need for humans to fight their own wars. When the robots realize they no longer need the humans, they rebel against their expendable creators and start to annihilate them.
"Artificial intelligence is already impacting our lives in minor ways," said Matt Lobel, president of Sparrow InterActive. "What this game really made me think about was the impact that it will have once AI surpasses our abilities. The logical conclusion is that our species is no longer at the top of the food chain, no longer relevant. What is going to stop robots that have destructive abilities, and acquire superior intellect, from coming to the same conclusion?"
Some effects of modern technology that's already in use are subtle but insidious and could over time lead to changes in the ways humans process information, Lobel said.
"Our dependence upon technology has been proven to have a detrimental effect on our ability to recall, on our attention span, among other areas," he said. "So as it gets more effective, we get more dependent and our own abilities atrophy. It's a slippery slope."
The United Kingdom is launching the world's largest study to date on the effects of mobile devices on memory, attention span and other areas, including the prevalence of attention deficit disorders, in adolescents. The Study of Cognition, Adolescents and Mobile Phones will follow mobile activity and cognitive performances of 2,500 11- and 12-year-olds over a three-year period.
Scientists Advise More Research
Astrophysicist Stephen Hawking, computer scientist Stuart Russell and physicists Max Tegmark and Frank Wilczek wrote in a May essay for The Independent that humanity is not doing enough research on the potential ramifications of artificial intelligence.
"Success in creating AI would be the biggest event in human history," they wrote in the British newspaper. "Unfortunately, it might also be the last, unless we learn how to avoid the risks."
Artificial intelligence could help cure disease, eliminate poverty and end wars. But what happens if the world reaches the technological singularity, the point where AI reaches and surpasses human intelligence?
"Although we are facing potentially the best or worst thing to happen to humanity in history, little serious research is devoted to these issues outside non-profit institutes such as the Cambridge Centre for the Study of Existential Risk, the Future of Humanity Institute, the Machine Intelligence Research Institute, and the Future of Life Institute," the scientists wrote. "All of us should ask ourselves what we can do now to improve the chances of reaping the benefits and avoiding the risks."
Robots on the Battlefield?
Representatives from eighty-seven countries gathered in Geneva in May for a United Nations summit on lethal autonomous weapons, hosted by the UN Convention on Certain Conventional Weapons, to discuss a potential ban on self-guided killer robots that are already in development in Russia and many other countries. (The U.S. military currently prohibits lethal fully autonomous robots.)
Only five countries – Cuba, Ecuador, Egypt, Pakistan and the Vatican – expressed support for such a ban, while France, Germany, Netherlands, the United Kingdom and other nations said humans should have significant control of targeting and attacks.
"Robot soldiers are extremely close," Lobel said. "Right now the limiter is determining friend/foe/civilians. Friend or foe determination can be relatively easily overcome, but we cannot have robot soldiers running around that have problems determining civilians from combatants. Still, for specialized missions, it's probably less than a decade away."
One of the concerns about placing robot soldiers on the battlefield is whether they can make ethical decisions. On April 25th in OWNI, Ron Arkin, a roboticist from the Georgia Institute of Technology, said robots can actually outperform humans in this area.
Robots would be consistent, Arkin said, and would not be susceptible to the anger, panic and prejudice that can cause humans to make poor decisions in the high-stress atmosphere of war.
But roboticist Noah Sharkey, who debated Arkin during the Geneva summit, doesn't believe robots can ever match human morals and ethics. Sharkey is a co-founder of the Campaign Against Killer Robots and chairs the International Committee for Robot Arms Control.
"I don't think they will ever end up with a moral or ethical robot," Sharkey told Defense One in a May 2014 interview. "For that we need to have moral agency. For that we need to understand others and know what it means to suffer."
Even if robots can be programmed with rules of ethics, he said, they can't be programmed to care.
"The biggest complication is that mercy and compassion are tied into human ethics," Lobel said. "Those are emotional, not logical, factors. You can only program a robot with logical factors to consider."
As an example, he pointed to the act of taking prisoners rather than executing a vanquished enemy.
"What would compel one to spare an enemy? Only mercy or compassion. A robot would have neither. Thus, a logical conclusion would be drawn that you don't spare your enemy combatants."
This is the case in Lords of Steel: AI Wars, where the robots who once served humans started to eliminate them once the machines realized their own superiority.
"As people ponder what impact AI will have upon our world, players of Lords of Steel: AI Wars will already have a glimpse at one possible future," Lobel said.
Lords of Steel: AI Wars, playable on iOS and Android systems, is scheduled to launch in early 2015. The game's Kickstarter campaign will begin August 5th.