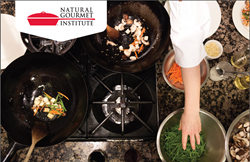 "NGI's Certificate Programs will align students' skills with the future of food - a system that is health-supportive throughout the entire supply chain from farm-to-plate-to-business-to-body."
New York, NY (PRWEB) June 30, 2014
Leading culinary institute, Natural Gourmet Institute (NGI) announces the expansion of their health-supportive course offerings with the launch of three innovative Certificate Programs. These programs are designed to give students the opportunity to enhance their education and gain first-hand experience in the areas of Sustainable Farming, Entrepreneurship and Culinary Nutrition.
Since opening its doors in 1977, Natural Gourmet Institute has been dedicated to progressive culinary education with a focus on seasonal, local, whole, traditional, balanced, fresh, and delicious foods. The Certificate Programs will take the school's founding principles to the next level by offering students the opportunity to integrate a holistic perspective of the food system into their culinary education. Each program is led by a team of industry experts and is open to the public through an application process.
"We are thrilled to be announcing these groundbreaking programs," says Anthony Fassio, CEO of Natural Gourmet Institute. "NGI's Certificate Programs will align students' skills with the future of food - a system that is health-supportive throughout the entire supply chain from farm-to-plate-to-business-to-body."
The Sustainable Farming Certificate Program is a two-week intensive, during which students will live and work on an integrative farm (Hawthorne Valley Farm), experience farming in an urban environment (Brooklyn Grange Farm), and understand how regional products are distributed to restaurants and consumers through a farmers' market model (GrowNYC's Greenmarket Program). Students will achieve a thorough understanding of organic farming, composting, the "locavore" movement, the relationship between chefs and local farmers, and much more. The unique, hands-on program will take place from August 18 through August 29, 2014.
The Entrepreneurship Certificate Program is designed to teach students to fine-tune a business concept, identify potential competition, make financial projections, market to a targeted audience, and more. Throughout the program, students will work in groups to brainstorm and complete assignments. The course will be led by Food Marketing Expert and Business Consultant Terry Frishman, along with guest speakers from the food industry. By the end of the course, students will understand the components of an effective business plan and other essential business development tools. The class will be held through 10 consecutive Saturdays from September 13 to December 6, 2014.
The Culinary Nutrition Certificate Program is meant for those who seek to incorporate nutrition theory into their culinary perspectives. The course will explore the science of nutrition, nutrition in the marketplace, food trends and specialized diets. By the end of the program, students will have learned how to incorporate the fundamentals of nutrition into their culinary perspective. The program will be led by Laura Rosenberg, MS, RD, CDN; Kayleen St. John, MS, RD and Andrew James Pierce, MS, RD, CSCS.
Interested students can sign up at: http://www.ngicertificateprograms.com.
###
About Natural Gourmet Institute
Founded in 1977 by Annemarie Colbin, Ph.D., Natural Gourmet Institute (NGI) is the international leader in health-supportive culinary education. Natural Gourmet Institute's Chef's Training Program is a comprehensive and professional program that trains students to meet the growing demand for culinary professionals who are able to make the connection between food and health. Natural Gourmet Institute also offers public intensives, hands-on instruction, demonstrations and lectures for the healthy cooking enthusiast. On Friday night, the school is transformed into an intimate dining room, where NGI's Chef's Training Program students and instructors prepare a three course vegetarian Friday Night Dinner that is innovative, delicious and beautifully presented.