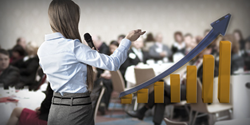 Events are an inherently expensive marketing channel," said Jeff Kalter, co-founder and CEO of 3D2B.
New York, NY (PRWEB) July 09, 2014
Customer acquisition firm 3D2B has announced the availability of a new white paper on the topic of achieving a high return on investment with marketing events. The white paper is titled The Complete Guide to Calculating and Maximizing Event ROI .
In many B2B organizations, event ROI is tenuous at best. Business cards for quality leads end up in sales reps' pockets, several expenses are simply not documented, and long-term measurement of nurtured leads doesn't point to the event as the source.
ROI is even more questionable when an organization fails to follow up on leads generated at the event. Too many marketers pack up and go home, doing little more than passing a list of names on to the sales organization.
When marketing dollars are being slashed, a solid ROI for events must be built around leads and sales conversions.
With its new white paper, 3D2B gives B2B marketers detailed, actionable data they can use to develop an itemized budget that will stand up to scrutiny. Plus, the white paper shows how B2B telemarketing can boost lead generation and sales conversions—effectively improving ROI by as much as 857%.
"Events are an inherently expensive marketing channel," said Jeff Kalter, co-founder and CEO of 3D2B. "To make matters worse, we've found that marketers fail to follow up on as many as 80% of leads generated at events. When event budgets and ROI are under intense scrutiny, this practice must stop. With our new white paper, we show B2B marketers how to define event budgets and employ telemarketing to improve results and boost ROI."
In an educational, easy-to-read format, the white paper covers several topics in detail including:

Why marketing objectives and ROI surrounding events can be difficult to define and measure
Why the human touch isn't enough when event budgets are being examined with a critical eye
How the "times three" rule of thumb is helpful when generating a ballpark event budget
How a detailed, itemized budget will stand up to scrutiny
What to consider when developing an itemized budget, complete with real-world numbers
How to calculate ROI based on the number of booth visitors, leads, closed deals, and more
How to compare ROI with and without telemarketing and lead nurturing to determine how telemarketing can boost event success
"Events hold great promise in generating quality leads for B2B marketing organizations," said Kalter. "An itemized budget helps quantify the exact dollars to be spent on a particular event. And B2B telemarketing can transform event ROI and drive tangible, meaningful results to the company's bottom line."
The white paper can be downloaded at 3D2B - The Complete Guide to Calculating and Maximizing Event ROI .
About 3D2B
Established in 2003, 3D2B provides B2B telemarketing and lead generation services to help foster customer relationships and boost sales across all industries. With offices in Rome and New York, 3D2B assists sales and marketing organizations across the globe.
Founded on the principle of providing quality, specialized B2B telemarketing and lead generation services, 3D2B prides itself in the fact that its agents are highly educated, natively speak the languages they cover, and have industry-specific experience. For more information about 3D2B, visit http://www.3D2B.com or call +1 718 709 0900 or +39 06 978 446 60 (EMEA).