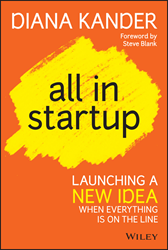 Diana Kander captures what it's like to launch something new. The result is a book that helps set readers on the path to finding startup success." — Tony Hsieh, CEO of Zappos.com and author of the #1 New York Times Bestseller Delivering Happiness
Hoboken, NJ (PRWEB) July 01, 2014
Are champions born or are they made? The interesting dynamics of today's startup landscape definitely brings about this question. News stories are flooded with tales of successful entrepreneurs who've never had to look back; others who stumble and learn from their mistakes. There are still others who never get that second chance and are forced to give up completely. Diana Kander, a successful entrepreneur and a Senior Fellow at the Ewing Marion Kauffman Foundation who has founded and sold a number of ventures, proposes there is a "scientific method" of entrepreneurship for startup success.
As a sought-after public speaker, consultant and writer, Diana uses her creativity and presents All in Startup: Launching a New Idea When Everything is on the Line (WILEY; July 2014; Hardcover & e-book; ISBN 978-1-118-85766-3; $27.95) as a fable that follows the life of Owen Chase who is tasked with turning his company around in nine days. Through pure happenstance, Owen finds himself pondering this problem while advancing steadily as a contestant at the World Series of Poker. His Las Vegas path quickly introduces him to Samantha, a beautiful and mysterious mentor with a revolutionary approach to entrepreneurship. Sam is a fountain of knowledge that may save his company, but her sexual advances might prove too much for Owen's struggling marriage.
All in Startup aims to showcase a new type of entrepreneurship, revealing innovative business principles and the emotional reality of entrepreneurship that goes tragically unmentioned during business school. Through the characters of Owen and Sam, All in Startup focuses on:

The counter-intuitive ways in which successful entrepreneurs think differently than wannabe-entrepreneurs.
Help entrepreneurs figure out if they are ready to quit their job and invest their life savings to go "All In" on their big idea.
How to significantly reduce the risks involved in launching a new idea.
"You will likely get only one opportunity in your life to go "all in" on an idea: to quit your job, talk your spouse into letting you drain the savings account, and follow your dream," says Kander. "All In Startup will prepare readers for that 'all in' moment and make sure that you push your chips into the middle only when the odds are in your favor and hold the keys to significantly de-risking your idea so that your success appears almost lucky."
All In Startup is more than just a novel about eschewing temptation and fighting to save a company. It is a lifeline for entrepreneurs who are thinking about launching a new idea or for those who have already started but can't seem to generate the traction they were expecting.
About the Author
Diana Kander is a successful entrepreneur, having founded and sold a number of ventures, and is a Senior Fellow at the Ewing Marion Kauffman Foundation, the largest non-profit in the world dedicated to entrepreneurship and education. A Georgetown-educated attorney who left a successful practice to launch her first company, Diana draws on her experience as a founder, investor, and academic to design and implement curriculum in educational institutions and the private sector. A sought-after public speaker, consultant, and writer, Diana has advised startup founders and Fortune 500 executives on her methodology for launching customer-focused products and services and developing an entrepreneurial mindset throughout an organization.
If you are interested in an interview with Kander or would like a review copy of the book, please contact Sadhika Salariya, Publicist – WILEY – ssalariya(at)wiley(dot)com/201-748-6782.