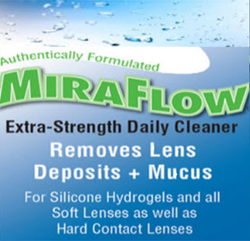 "Experience The MiraFlow Difference"
Dayton, Ohio (PRWEB) July 01, 2014
The manufacture of MiraFlow was discontinued in 2010. It was on the market for more than 25 years and was sold in stores nationwide; it was found at CVS, Rite Aid, Walgreens, Wal-Mart, and more. For the people who relied on MiraFlow for so many years, being discontented with its unavailability left thousands of MiraFlow users at a total loss when it was discontinued. For them, bringing MiraFlow back on the market is indeed very good news. The highly respected MiraFlow contact lens cleaner will provide its natural cleaning benefits to these people once again.
MiraFlow Extra Strength Daily Contact Lens Cleaner is a perfect solution for all silicone hydro gels, hard lenses and soft contact lenses. MiraFlow will not be offered in stores and will only be available through their website . It will be the same product that people relied on to provide the incredible results that everybody loved and depended on for so many years and was considered by many to be the best extra-strength daily contact lens cleaner on the market.
This product has been developed with the primary purpose of helping people find a complete and effective solution in taking good care of their contact lenses and their eyes. There are several contact lens cleaners available but only MiraFlow Extra Strength Daily Cleaner can give an exceptional result. It is what most people are looking for and is worthy of their trust and recommendation.
MiraFlow produces one of the best contact lens cleaners available on the market today. The product has been authentically formulated by Dr. William R. Martin to disinfect and clean the surfaces of contact lenses.
Be sure to watch the video to discover, The MiraFlow Difference!
If you have not experienced the MiraFlow difference for yourself, buy it, try it, and fall in love with the comfort and longevity of your lenses that MiraFlow will provide for you.
To read what past users of MiraFlow have to say, please visit http://miraflow.com/reviews/ or visit the Contact Us page on our website to send inquiries.