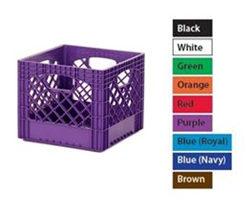 Urbana, IA (PRWEB) June 30, 2014
Iowa-based E-commerce company JustPlasticBoxes.com has added new varieties of plastic storage boxes to its category of Garage Storage Boxes. The product line expansion comes at a time customers are requesting items for summer organization projects.
Recent additions include an expanded selection of the company's popular heavy duty plastic milk crates and line of Roughneck totes by Rubbermaid®. All items are sold in bulk quantities, resulting in savings passed along to the customer.
Pet food storage bins and charcoal caddies are also best-selling items for the company this time of year, and Product Specialist Tammy Karr says even though the company is known for its bulk quantities, all products are also available in smaller or single quantities as well.
"While boxes are more popular in the multi-pack quantities, we understand customers might not need large quantities of some of our specialty items, so we encourage them to give us a call if they need a smaller quantity of an item."
For customers interested in multiple packs, prices drop further- in some cases more than 20%. One of the company's most popular products- plastic milk crates- sell in a pack of 48 for $439.99. Purchasing two or more packs reduces the price per pack to $339.99; a savings of 23%.
"The milk crates have always been a best-selling product for us, so we were happy to be able to expand the color selection to meet our customers' needs," says Karr. "They are especially popular with school teachers and administrators, so we expect sales to remain brisk throughout the fall."
All products can be purchased by visiting JustPlasticBoxes.com or by calling toll free at 800-736-0651.
###
About JustPlasticBoxes.com
JustPlasticBoxes.com is an e-commerce retailer specializing in offering bulk quantity plastic storage boxes at wholesale prices to consumers and businesses. Launched in 2012 by parent company Clickstop, Inc., the company also owns and manages seven additional web stores, including SpaceSavers.com, FastenersPlus.com, USCargoControl.com and EcoFoil.com. For more information, visit http://www.JustPlasticBoxes.com.