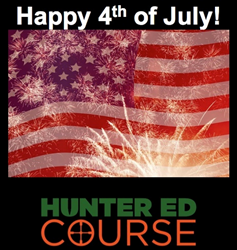 Birmingham, Michigan (PRWEB) July 01, 2014
Online hunter education provider, Hunter Ed Course, recognizes that for outdoors enthusiasts, the summer is a low point to feed the hunting passion. But, the reality is that there is plenty to do, whether it is scouting for deer hunting season, going to the shooting range or hitting the lake for a little fishing.
The latest article on HunterEdCourse.com is giving readers ten ideas for how to enjoy the Fourth of July weekend with hunting and outdoors activities. The focus of the activities is to be with family. It is a holiday, and we are celebrating our country's independence that allows Americans a level of freedom to enjoy the great outdoors that is not found in most other countries.
The article, titled: "Hunting and Enjoying the Outdoors over the Fourth of July" provides ten ideas from actual hunting this time of year, to taking your online hunter education, to hiking and attending family events such as a parade, picnic or BBQ.
The "Outdoors on the Fourth" article can be found at http://www.HunterEdCourse.com/blog. HunterEdCourse.com is the home web site for the purchase of online hunter education as is required for new hunters in most states.
The HunterEdCourse.com blog is designed to provide new and seasoned hunters with tips and articles to help enjoy the outdoors and their passion of hunting after they get their hunter education card.
Hunter Ed Course has expanded its national footprint to include such hunting states as Texas, Georgia, Kentucky, Virginia and many others. The complete listing of states can be found at http://www.HunterEdCourse.com.
In the end, enjoy the fourth with the family and outdoors.
About Hunter Ed Course
Hunter Ed Course is committed to providing a more affordable online hunter safety course than is currently on the market in order to reduce training as a barrier to access for those wanting to start hunting.
Offered at only $13 through the website http://www.HunterEdCourse.com, access is provided to online hunter education for youth and adults in a medium they are comfortable with and at a price that is affordable and within reach.