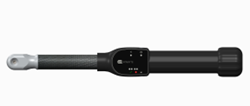 Plymouth, MN (PRWEB) July 01, 2014
ASI DATAMYTE, the global standard in enterprise quality solutions, today announced the release of its Wireless LightStar™ Torque Wrench. The new, innovative torque and angle wrenches provide unprecedented value to manufacturers aiming to avoid recalls through concise and accurate measurement without compromising their productivity.
"The Wireless LightStar Wrenches represent a quantum leap in residual torque measurement functionality with 6 times better accuracy and measurement range," said Frank Skog, ASI DATAMYTE's Product Manager. "With reduced downtime, better ergonomics through reduced weight, reduced pull force, and enhanced error proofing, the Wireless LightStar provides manufacturers with unparalleled accuracy and efficiency."
The wireless technology of the LightStar Torque Wrench reduces costs and time spent on calibration and validation while eliminating costs associated with the purchase and maintenance of cables. Designed to be used with multiple applications, the wrench is versatile enough to be used in a variety of manufacturing procedures. From checking for residual torque post assembly to measuring the shear torque on welded fasteners, the Wireless LightStar is equipped to handle the quality assurance needs and challenges manufacturers face.
About ASI DATAMYTE
ASI DATAMYTE is the global leader in providing world-class software and hardware solutions and services for quality management and quality improvement. For decades, they've been serving assembly, manufacturing and laboratory operations worldwide in a broad range of industries, including automotive, aerospace, consumer products, defense, food and beverage, medical device, industrial, wind power and others. Headquartered in Plymouth, Minn., U.S.A., ASI DATAMYTE has offices in Belgium, Brazil, Canada, China, Denmark, Germany, Italy, India and the United Kingdom. For more information, visit http://www.asidatamyte.com.