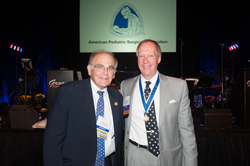 Deerfield, IL (PRWEB) June 30, 2014
In addition to the annual awards for outstanding presentations, this year the American Pediatric Surgical Association (APSA) presented the inaugural Robert E. Gross Award for Excellence in Pediatric Research and Achievement. The awards were announced at the APSA Annual Meeting earlier this month in Phoenix, Arizona.
The APSA Robert E. Gross Award for Excellence in Pediatric Research and Achievement was created by the APSA Board of Governors to recognize a seminal contribution which has resulted in a major change in how pediatric surgeons manage a particular problem, been demonstrated to be durable with time and widely accepted by pediatric surgeons as "standard practice." Bradley M. Rodgers, MD, University of Virginia Medical Center and APSA President 2003-2004, was chosen as the very first recipient to honor his enduring contributions to the development of pediatric laparoscopic and thoracoscopic surgery, which has benefited innumerable children by minimizing the effects of surgery and enabling surgeons to provide a wide variety of techniques for the care of thoracic conditions in children.
"I was completely surprised when I learned that I had won this award," said Rodgers. "I am very honored to be the recipient. I am well aware that there are many others in our organization [APSA] who are at least as deserving as I, but it is nice to have your colleagues appreciate your work. It has been a privilege for me to watch others in our group push this technique far beyond anywhere I could have pushed it, working alone."
Another first-time honor, the Quality Award for Value in Surgery, was given to two presenters for their work on balancing quality clinical outcomes and cost of care for pediatric surgical care. Jason W. Nielsen, MD, Nationwide Children's Hospital, Columbus, Ohio, won for his abstract "Reducing CT Scans for Appendicitis by Increasing the Diagnostic Accuracy of Ultrasonography." Kathy Schall, MD, Primary Children's Hospital, Salt Lake City, Utah, was honored for "A Dynamic Discharge Protocol Provides Efficient Care for Uncomplicated Appendicitis."
Shahab Shaffiey, MD, Children's Hospital of Pittsburgh, received the Sheikh Zayed Institute Award for Innovation in Pediatric Surgery for his presentation "A Novel Biodegradable Device for Intestinal Lengthening." This award, sponsored by the Sheikh Zayed Institute for Pediatric Surgical Innovation at Children's National Medical Center, is presented for the best innovation abstract.
The 2014 Poster of Distinction in clinical science was awarded to Cerine Jeanty, MD, University of California, San Francisco, for "Procedural Management of Cholelithiasis in Infants Under One Year of Age." The Poster of Distinction in basic science was given to Catherine J. Hunter, MD, Ann and Robert H. Lurie Children's Hospital of Chicago, for "Defining the Role of Protein Kinase A and Apoptosis in Necrotizing Enterocolitis."
The M. Judah Folkman Memorial Awards, presented by APSA and the Association of Training Program Directors for Pediatric Surgery, are given for outstanding research podium presentations at the APSA Annual Meeting. Connie H. Keung, MD, Columbia University Medical Center, New York, New York, won in the basic science category for "Propranolol as a Novel Therapy for Lymphatic Malformations." Blair A. Wormer, MD, Carolinas Medical Center, Charlotte, North Carolina, won in the clinical science category with "Home Intravenous Oral Antibiotics Following Appendectomy for Perforated Appendicitis, a Randomized Controlled Trial."
The full abstracts are available on the APSA website http://www.eapsa.org/Awards.htm#awardrecipients.
###
CONTACT
Meagan Comerford, APSA Communications Marketing Manager
mcomerford(at)eapsa(dot)org; +1-847-480-9576 x246
ABOUT APSA
The American Pediatric Surgical Association (APSA) (http://www.eapsa.org) should we add the Twitter account here? is a nonprofit organization whose mission is to ensure optimal pediatric surgical care of patients and their families, to promote excellence in the field, and to foster a vibrant and viable community of pediatric surgeons.