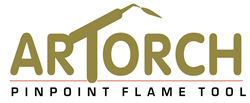 The ArTorch® is a precision tool that not only handles easily, but welds, brazes and solders most metals.
Fort Lauderdale, FL (PRWEB) June 30, 2014
The ArTorch® is an ideal pinpoint flame tool for jewelers, artists, opticians, dentists, electronic technicians & hobbyists. Since the launch of Artorch.com, interest in the professional mini-flame tool has spread across the web, prompting Uniweld Products, Inc. to release more information on this miniature oxy/fuel pinpoint flame tool. This oxy/fuel pinpoint flame tool operate with most fuel gases, including Mapp®, Acetylene, Propane, Propylene, and Natural Gas. ArTorch® tips are fitted with a synthetic sapphire insert to ensure that the tip orifices hold tight tolerances without warping.
A wide variety of regulators, lightweight hoses, and cylinders are now part of the ArTorch® line. The comfortable fit, lightweight, flexible color-coded hoses and easily accessible control valves make the ArTorch® a dependable, efficient tool, which the user can rely upon all day, every day.
The ArTorch® is the perfect tool for the jeweler who demands accuracy and reliability, the artist who wants to achieve creativity in intricate metal sculpture and crafts, and the Do-it-yourselfer who needs to perform some small metalworking projects.