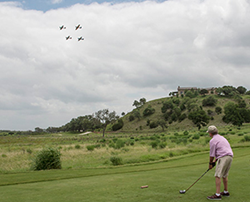 Fredericksburg, Texas (PRWEB) July 01, 2014
Boot Ranch welcomed more than 150 golfers at the 5th Annual Nimitz Golf Classic which raises funds for the Admiral Nimitz Foundation, the National Museum of the Pacific War and returning veterans, wounded warriors and military personnel. The event raised more than $100,000 to benefit the Foundation and to support the Combat Marine Outdoors organization which seeks to provide an outdoor adventure of a lifetime to some of our heroes.
The spectacular weather showcased Boot Ranch at peak beauty and lushness, and all attending enjoyed the day to commemorate one of Fredericksburg's own historic and celebrated leaders, Admiral Chester Nimitz, WWII era commander of the U.S. Navy. Dotting the fairways were golfers, soldiers, and guns, jeeps, and more from the National Museum of the Pacific War's private collection of World War II era military equipment and vehicles. Surprise flyovers and other reenactments kept all on their toes.
As is the tradition, General Michael W. Hagee, USMC (Ret), 33rd Commandant of the U.S. Marine Corps and President and CEO of the Admiral Nimitz Foundation, led the charge both on the field and on the course.