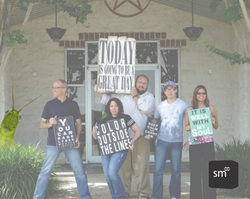 Our dedication to help boost the image of businesses and organizations with LED signs with superior content and marketing support is just getting stronger.
Round Rock, TX (PRWEB) July 14, 2014
With the rapid growth of SM Infinity ™, an online service to control advertising on LED signs, Spectacular Media (SM) announced a new office location in Round Rock, TX to facilitate expansion into the content creation, LCD and POS markets. The Round Rock location expands upon their existing offices in Louisville, CO and Ontario, CA; all locations chosen for their growing tech hubs with rich resources of people, ideas, and emerging technologies.
Spectacular Media (an advertising software company) collaborated with Vantage LED (a premier manufacturer of Outdoor LED Signs) to help launch an online digital advertising cloudware service called: SM Infinity. The service allows LED sign owners to control advertising on their outdoor LED signs remotely through any Internet-connected platform, like a PC, Mac, or iPad, and also request professionally designed tailored content.
The popularity of the service has seen significant increases since the launch, and according to Spectacular Media, they expect the trend to continue. With frequent updates and feature releases, like an iPad app and the new online message editor Doodle ™, they are looking to leverage tech friendly Round Rock and the surrounding talent pool to support the growth and maintain the quality of service moving forward.
"This was a necessary step for our clients," stated Scott Hofheins, Special Ops Director in TX for SM. "Our dedication to help boost the image of businesses and organizations with LED signs with superior content and marketing support is just getting stronger. As we solidify this outdoor medium, it's time to bring it inside to the LCD screens and eventually tie it into POS systems." Hofheins continued, "Round Rock is cool, and of course, so is nearby Austin. So, we're definitely excited to call this home."
Spectacular Media views the SM Infinity experience like having a concierge for your LED Sign. They believe LED sign owners should focus on their business instead of being stuck behind a computer trying to design compelling content. Now, with even more "bees in the hive" the SM team will continue to support long term expansion of Spectacular Media and the SM Infinity service for years to come.
"An LED sign is a major extension of an organization into the community," explained Deacon Wardlow - Special Ops Director in CO, "the content not only has to be effective, but attractive to the public. Digital Signage is a powerful on-premise targeted marketing and communication tool, and it really needs a solid, serious, and easy-to-use platform behind it. Organizations get that with SM Infinity."
Spectacular Media supports an open space collaborative approach to business which allows their team to focus on engaging with clients, the community, and partners to make the entire experience of owning and operating digital signage an amazing and fluid one.
"Having operation teams in California, Colorado, and Texas give us the best people in the best places to recruit exceptional talent and maintain the level of service our clients deserve, no matter how fast we grow," explained Hofheins, "We're ready, bring it on!"
Watch for more from this company as they begin to spread the message of what their delivering locally and globally.