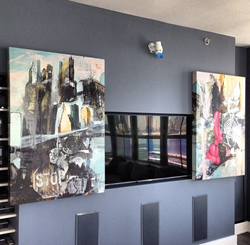 ...a well-designed integration can absolutely be considered a work of art.
Hoboken, NJ; Union, NJ (PRWEB) July 01, 2014
360 Media Innovations, an award-winning custom electronics integration firm headquartered in New Jersey, today announced the completion of their new Responsive Technology Simulator at its permanent location within the Barsky Gallery (49 Harrison Street), in Hoboken. The formal unveiling will take place during a networking/media event the night of Thursday, July 10th.
The developers, architects, realtors and designers in attendance to be the first to experience the interactive display, whereby all the latest "smart home" innovations will be demonstrated. The structure has been several months in planning after 360 Media Innovations and Barsky Gallery collaborated on an art and technology project at the Maxwell Place.
"There's a common view that this technology works strictly for giant homes or properties, and this is a huge misconception," said Chima Gale, President of 360 Media Innovations. "Having audio distributed in every room, automated lighting control to properly illuminate art for example, and integrated security…these are all available to those of us who live in brownstones or high rises. The kiosk allows us to show city-dwellers the real-world applications that they can expect from quality technology integration."
The kiosk display has been designed to demonstrate multiple facets of responsive technology, including multi-room distribution for both audio and video, controlled lighting devices, security and surveillance, vanishing technology, and even digital signage for business customers.
"A gallery featuring technology solutions is likely not an obvious pairing, but our guests comprise residents whose lives would benefit most from these advancements," said Albert Barsky, proprietor of the Barsky Gallery. "And a well-designed integration can absolutely be considered a work of art. When I witnessed the professionalism and expertise of the 360 team as we collaborated on the Maxwell Place project, I was confident we could offer a complimentary space with an opportunity for them to interact with a receptive audience. The union of technology and art, however unlikely, has created a distinct advantage for art enthusiasts, where 360MI's solutions can further add value to each art collector."
The doors to the Art, Wine & Design event will be open from 6:00 PM to 8:00PM on July 10th, and the event will be catered by Orange & Olive Caterers and will showcase some of the gallery's most exciting works of art. Manufacturers featured include Elan, Lutron, Madison Fielding, Future Automation and more. Interested media participants should RSVP to Jessica(at)360mediainnovations(dot)com before the end of business on Tuesday, July 8th.
"Our intention is to replicate the interactive experience in more locations soon," Gale continued. "360 Media Innovations wants to bring the responsive technology experience to everyone who feels that technology is inaccessible because of where they live. The Barsky Gallery is just the first extremely important step on this path."
About 360 Media Innovations
As featured in Residential Systems Magazine and recipient of 2013 Integration Award (Honorable Mention) & [2013 Top Integration Firm, 360 Media Innovations is a full-service residential, custom electronics design and integration firm, whose primary goal is to provide personalized electronic lifestyle solutions that create convenience, comfort and peace-of-mind.