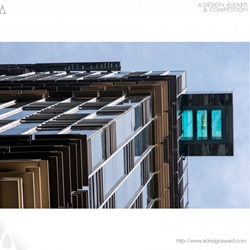 Como, Italy (PRWEB) June 30, 2014
A' Design Award and Competition is pleased to announce that the design of Hotel Indigo, Hong Kong Island by Aedas has won the Platinum A' Design Award in Architecture, Building and Structure Design Competition.
About the Hotel Indigo, Hong Kong Island
Aedas, the creative design team behind the winning project Hotel Indigo at Hong Kong Island said, "Some of the most fulfilling designs are those embedded and contextualized in their local culture. It was the designer's intent from the outset to reflect, in the architectural expression, the vibrant nature of Asia, Hong Kong and Wanchai. The shading device on the hotel façade resembles a dragon; the glass bottomed cantilevered pool is considered as a pearl often associated with dragons. The hotel design also provides legibility at both the city (macro) and human (micro) scale." Learn more about this award winning work at http://www.adesignaward.com/design.php?ID=32705.
Creative Team for Hotel Indigo Hong Kong Island
Hotel Indigo, Hong Kong Island was designed by Architect Max Connop from Aedas
The Platinum A' Design Award
The Platinum A' Design Award is a prestigious award given to top 1% percentile designs that has carried out an exemplary level of quality in design. A' Design Award entries are voted by an international jury panel of established scholars, experienced designers and eminent press members. Laureates of the A' Design Award & Competition are granted the A' Design Prize which includes a series of PR and publicity tools such as inclusion in Designer Rankings to help promote the winners.
About A' Design Award and Competition
A' Design Award and Competition is an international juried design competition organized under hundreds of different design disciplines. The ultimate aim of the A' Design Accolades is to push forward designers, artists and architects worldwide to come up with superior projects, designs and products that could benefit mankind. A' Design Award & Competition wishes to create a global awareness for good design practices and principles by highlighting exemplary design work. Learn more about the A' Design Competition at: http://www.designaward.com