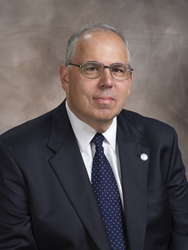 My primary responsibility is to do everything I can to support each and every member of the St. Joseph's College community.
Patchogue and Brooklyn, N.Y. (PRWEB) July 01, 2014
St. Joseph's College is pleased to welcome Jack P. Calareso, Ph.D. as its seventh president. Dr. Calareso has replaced SJC's retiring President S. Elizabeth A. Hill, who served as its leader for 17 years. Dr. Calareso will be the first non-religious leader of the College since its founding in 1916.
"My primary responsibility is to do everything I can to support each and every member of the St. Joseph's College community," said Dr. Calareso. "In the coming weeks, I hope to begin to share my ideas for the future. We are fortunate to have two dynamic campuses and my goal is to spend an equal number of days on each campus. I am very excited to serve as SJC's new president."
Dr. Calareso served as president of Anna Maria College in Paxton, Mass. since 2007. Prior to that, he served as the president of Ohio Dominican University in Columbus, Ohio, and Briar Cliff University in Sioux City, Iowa. Dr. Calareso has earned a national reputation for his knowledge in liberal arts education, teaching and administration. He is also a renowned speaker at international, national, regional and local conferences and workshops, as well as the author of numerous books and articles. A strong fundraiser, Dr. Calareso has successfully planned and led a number of major fundraising campaigns resulting in significant capital improvements, growth of endowments, scholarship programs, endowed chairs and special projects.
Dr. Calareso received a Ph.D. from Marquette University in Milwaukee, Wis. He earned a master's degree from St. Bernard's School of Theology in Rochester, N.Y., and an undergraduate degree from Boston College. Dr. Calareso and his wife, Rose, have three grown children and four grandchildren. The couple has relocated from Mass. and is currently residing in Brooklyn, N.Y.
ABOUT ST. JOSEPH'S COLLEGE
St. Joseph's College has been dedicated to providing a diverse population of students in the New York metropolitan area with an affordable education rooted in the liberal arts tradition since 1916. Independent and coeducational, the College provides a strong academic and value-oriented education at the undergraduate and graduate levels, aiming to prepare each student for a life characterized by integrity, intellectual and spiritual values, social responsibility and service. With campuses located in the Clinton Hill area of Brooklyn and in Patchogue, Long Island, the College offers degrees in more than 29 majors, special course offerings and certificates, affiliated and pre-professional programs.