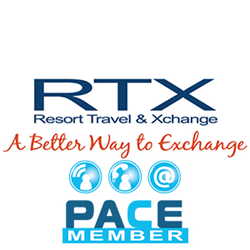 Orlando, Florida (PRWEB) July 02, 2014
Resort Travel & Xchange (RTX) is proud to announce that it has become a member of the Professional Association of Customer Engagement (PACE), formerly the American Teleservices Association.
PACE is the only non-profit trade organization dedicated exclusively to the advancement of companies that use a multi-channel approach to engaging their customers, both business to business and business to consumer. These channels include contact centers, email, chat, social media, web and text.
Through membership in PACE, RTX is able to view and connect with what is happening with customer engagement strategies around the world. What's more, RTX can now participate in member-driven committees in the areas of International Business, Technology, State and Federal Legislation and Inbound – as well as the Compliance Officers' Forum – to develop and enhance best practices and strategic initiatives.
"RTX is proud to be a part of this worthwhile organization, and we look forward both to benefitting from the experiences of others and sharing our own expertise," says Pamela Price, director of call center operations for RTX. "And we look forward to passing along to our members and industry partners the added-in value that comes from being a part of this global conversation on multi-channel engagement."
PACE's membership is made up of Fortune 500 companies, contact centers, BPOs, economic development organizations and technology suppliers that enable companies to contact or enhance contact with their customers. The organization has membership with many international associations and companies that allow its members to view and connect with what is happening with customer engagement strategies around the world.
In addition, the PACE political action committee (PACE-PAC) has the mission of educating, motivating and mobilizing contact/call center employees on political and legislative matters, and was formed in order to raise awareness about the contact center industry and to lend support to those political candidates who impact the industry.
Perfect Timing
"We recently opened a new 5,000-square-foot state-of-the-art call center in Orlando, Florida to help better serve our expanding member base, so the timing couldn't be more appropriate," Price points out. "Currently, we serve more than 60,000 members – and while RTX is primarily an exchange company, we provide operational services for our resort and developer clients, including member services and help with delinquent inventory. Our Orlando call center allows us to serve a larger number of clients and members, as well as expand our member services hours," she says.
About RTX
Resort Travel & Xchange (RTX) is a timeshare and vacation ownership exchange company based in Asheville, N.C. RTX works with a number of resorts and developers throughout the world to provide the best exchange options possible to its members. In addition to exchange services, RTX offers a number of travel benefits to members such as trip protection, rebates, travel discounts and more. RTX has approximately 60,000 members.