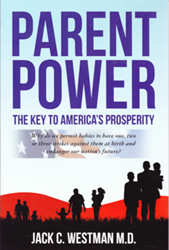 Parenthood is the foundation of our society.
Madison, Wisconsin (PRWEB) July 02, 2014
Everyone knows that being a mother is "the toughest job you'll ever love." It is not as well known that this applies to fathers as well. Data from the National Longitudinal Study of Adolescent Health 23-year longitudinal analysis of 10, 623 men was analyzed by Craig F. Garfield, MD, and coauthors in the journal Pediatrics in May, 2014. Resident fathers had a 68% increase in depressive scores during children's key attachment years of 0–5, although those scores decreased during later years. In his book Parent Power: The Key to America's Prosperity, Dr. Jack Westman adds that parenthood generally is not accorded a high value in the United States. Only 1 in 3 households in the United States have a child under the age of eighteen. Having a baby is a status symbol…caring for one is not.
Dr. Westman points out that, unlike other Western nations, the United States does not recognize the economic value of parenthood. In the United States many parents are diverted from childrearing to paid employment either by choice or by necessity in welfare-to-work programs. In fact, competent parents contribute $1.4 million to our economy for each of their children who becomes a productive worker. Incompetent parents cost our economy $2.8 million for each child they damage by neglect and/or abuse. Childcare is regarded as a marketable educational function rather than a fulfilling developmental experience for parents and children. Consequently, childrearing is increasingly delegated to institutions, such as schools and childcare facilities.
Most importantly, Dr. Westman explains why society doesn't recognize parenthood as a career. It doesn't formally acknowledge that childrearing is skilled, hands-on work in which parents and children bond and grow together. It automatically awards full parental rights to any genetic parent regardless of age or ability to be a parent until the child is damaged by the parent's neglect or abuse and parental rights are terminated by a court.
Dr. Westman concludes that the rewards of parenthood are easily obscured for contemporary parents who are not experiencing the satisfactions and pleasures of parenthood. Since work is defined in the United States as a paid activity, unpaid activities like childrearing are not regarded as work. This obscures the fact that childrearing actually has immense financial value for society. In the long run, parenthood is more important to society than paid vocations. Although not recognized as such, parenthood is the career that benefits everyone.