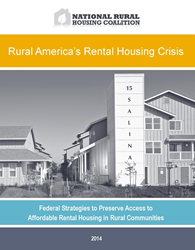 If Congress and the Administration do not implement real reforms, rural communities may lose this vital resource.
Washington, DC (PRWEB) July 07, 2014
Today, the National Rural Housing Coalition (NRHC) released a comprehensive report on the state of affordable rental housing in rural communities. The report, "Rural America's Rental Housing Crisis," documents both the substantial contributions that federal rural housing programs have made to improving housing conditions in rural America and the challenges to preserving and maintaining these gains in an era of federal budget austerity.
"In many rural communities, the only source of financing for affordable rental housing is U.S. Department of Agriculture (USDA) Rural Housing programs. This housing is especially important for our most vulnerable residents, including the elderly, low-income families, people with disabilities and farmworkers," said Bob Rapoza, executive secretary of the National Rural Housing Coalition. "Unfortunately, there is a limited commitment on the part of Congress, USDA, and the White House to preserving this valuable asset."
According to U.S. Census data, communities in rural America have long struggled to provide access to clean, decent, and affordable housing. This is especially true of renters who, because of lower incomes and higher poverty rates, face even greater barriers to affordable housing than other rural residents.
USDA has helped rural America overcome many of these barriers through its low-cost direct loan, grant and rental assistance programs. Over the past 50 years, USDA has financed and preserved more than 500,000 units of affordable rental housing.
NRHC's report notes that despite the success of these programs, federal efforts to improve the quality of rural rental housing have stalled. For decades, Congress and various administrations have underfunded efforts to preserve the physical and financial condition of USDA's investment. As a result, none of the properties in USDA's portfolio have the capital needed to meet long-term operational costs.
In addition, the report finds that budget gimmicks used by federal policymakers to reduce funding for USDA's rental assistance program in the short-term have caused long-term costs to increase. Without congressional action, NRHC asserts that rental assistance costs will grow to over $1.3 billion annually, putting the entire USDA Rural Housing budget at risk.
In 2012, the Department responded to these budget constraints by halting nearly all new construction. That year, USDA also ended a preservation program authorized by Congress in 1987 that offered property owners financial incentives in exchange for keeping rents affordable.
Rapoza claims that these policies have only made it more difficult for rural communities to maintain their affordable housing stock.
"Rural advocates are deeply concerned that USDA's current preservation efforts will not be enough to sustain its rental housing portfolio," says Rapoza. "If Congress and the Administration do not implement real reforms, rural communities may lose this vital resource."
About Section 515 Rural Rental Housing Loans
For over 50 years, Section 515 loans have been used to improve the quality of affordable rental housing for low-income families in rural America. Today, nearly 400,000 rural families live in housing financed with low-cost Section 515 loans. The vast majority of these tenants (94 percent) have very low incomes, earning less than $12,000 a year on average. For many rural communities, Section 515 is the only source of affordable rental housing available.
About Section 514/516 Farm Labor Housing Loans and Grants
The USDA Section 514/516 Farm Labor Housing Program provides low-cost loans and grants to help acquire, build, improve, and repair housing for America's farmworkers. It is the only federal program exclusively designed to increase access to affordable rental housing for America's farmworkers. Since its inception, the program has invested $1.3 billion to finance more than 38,000 housing units. Farmworkers face powerful barriers to accessing decent, safe, and affordable housing, forcing many to live in substandard, crowded, and unsanitary conditions. According to the National Agricultural Workers Study (NAWS), 25 percent of the 2.5 million farmworkers across the nation live in poverty—a rate roughly twice the national average.
About Section 521 Rural Rental Assistance
The Section 521 Rural Rental Assistance program provides a lifeline to more than 270,000 low-income rural tenants living in properties financed by USDA. The average Section 521 tenant earns just $10,024 each year. In addition, 64 percent all households receiving Section 521 Rental Assistance are headed by elderly or disabled tenants, 32 percent are headed by persons of color, and 73 percent are headed by women. Today, 14 percent of all USDA Rental Housing tenants are in critical need of rental assistance, but do not receive it. Without access to the Section 521 programs, these tenants have very few options for affordable housing.
About the National Rural Housing Coalition
NRHC is a national membership organization of non-profit housing organizations, housing developers, state and local officials, and housing advocates. Since 1969, NRHC has promoted and defended the principle that rural people have the right – regardless of income − to a decent, affordable place to live, clean drinking water, and basic community services.