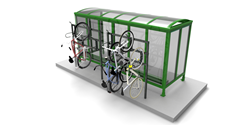 Clifton, NJ (PRWEB) June 30, 2014
When transit hubs, such as bus stops and train stations, are too far from home, work or school to walk to or offer limited car parking at park and ride locations, many commuters opt to drive instead of taking mass transit. However, a New Jersey company called "Velodome Shelters" views this as an opportunity for transit planners and transit companies to increase ridership.
Known as "multi-modal" or "first mile, last mile" transportation, combining biking and mass transit in one trip makes the prospect of taking mass transit a more viable option for many people. With the increasing popularity of biking, more opportunities than ever exist to connect the dots between final destinations.
Velodome's president, Richard Cohen, points out that that, "By accommodating bikers, transit companies are contributing to the health of their commuters as well as the environment. By reducing or eliminating unnecessary car trips, tons of CO2 emissions are prevented from entering the atmosphere."
Mr. Cohen also asserts that one of the major impediments to using bikes as a mode of transportation to "connect the dots" is the missing or inadequate bike transportation infrastructure. Without facilities to protect bikes from the elements and theft at transit hubs, many would be bikers (i.e., customers) have second thoughts about leaving their bikes out in the rain and unattended. To address these problems, Velodome has developed three combo bike/bus shelter models that offer different levels of protection.
The most economical option is a "retrofit" of existing bus stop shelters. Velodome modified its vertical bike rack stand called the "MaxRack" so that the posts could be bolted into the perimeter of the concrete pads that are anchored into most bus shelters. By alternating the level of the racks, they can be spaced close together to maximize the number of bikes accommodated. Each MaxRack comes equipped with a solid steel ring that can lock to the front wheel and bike frame.
For new shelter installations, Velodome's creative team designed an aluminum and glass bus stop shelter with a dividing wall and an extended roof to cover bikes. Since the company's shelters are made to order, they can be made any size. Options include four roof styles, solar lighting, illuminated advertising panels and different finishes. Velodome also produces the heavy duty bike racks that are set or bolted into the concrete pad.
The greatest concern that cyclists face is vandalism and theft of their bikes. Velodome's solution to this problem is a line of locking bike shelters that are weatherproof, safe and secure. The company's newest model is called the "Peapod" and accommodates up to 20 bikes in an approximately 12'x15' footprint. The shelters are offered with several different access control systems ranging from keyed locks and keypads to swipe and proximity cards with monitoring features that can work with transit and metro cards.
The combination bus/bike shelters is a collaboration between Velodome Shelters and sister company Handi-Hut, which manufactures aluminum bus stop shelters. Founded by Richard's father, Mel, in 1972, Handi-Hut has manufactured more than 10,000 passenger transit shelters that are installed throughout North America. The two companies operate out of a two-story, 60,000-sq-ft facility in Clifton, NJ. Mel says, "There are real synergies between Velodome and Handi-Hut. In addition to making shelters that support transportation alternatives to cars, collaborating on projects like the bus/bike shelters gives us an opportunity to learn from each other's business…all under one roof."
About Velodome Shelters
Velodome Shelters specializes in innovative bicycle parking shelters and bike racks that protect bikes from the elements and deter theft. In addition to their standard models, their creative team designs custom bike parking solutions for virtually any location.
Bicycle Parking Solutions for a Greener World™