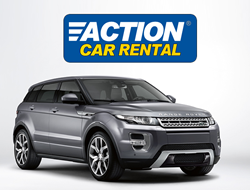 ot only have we had to increase our vehicle fleet due to demand, we've also had to double our driving staff due to increased business.
New York, New York (PRWEB) June 30, 2014
Action Car Rental, one of Manhattan's leading luxury independent car rental providers, announced this morning that they would be adding to their already impressive fleet of exotic car rentals with the purchase of a 2014 Land Rover Evoque. The vehicle, which was purchased thanks to high customer demand, will be available for hire in July.
"It's been a big year here at Action," explained Action Car Rental CEO, Harry Hollander. "Not only have we had to increase our vehicle fleet due to demand, we've also had to double our driving staff due to increased business." Staff drivers are responsible for helping ensure that the right vehicles are at the right locations when customers arrive. "Whenever we need to add more drivers to our team, it's definitely a sign that reservations are up and business is good."
As one of the largest independent car rental agencies in New York City, Action prides itself on offering a fleet of exceptional, hard-to-find vehicles. With both foreign and domestic models available for booking, including the Nissan Murano Convertible, Mercedes Sprinter 15-passenger Van and the Mini Cooper S Roadster Convertible, the company has quickly become the preferred rental agency for many local residents and visiting tourists.
"It's hard to believe that less than 20 years ago we were operating out of one small office in Greenwich Village," said Hollander. "Back then, we only had 15 cars. Today, we have a fleet of hundreds."
About the Range Rover Evoque
Widely acclaimed by journalists, critics and owners, the Range Rover Evoque includes a suite of customer-focused in-car technologies and safety features, as well as class leading off-road features and advanced all-wheel drive system. Handsome and functional, the full-sized SUV comes with a turbocharged four-cylinder engine and nine-speed automatic transmission. Engineered with top-notch materials, the Evoque is as comfortable in the wilderness as it is on the streets of Manhattan.
To book the Range Rover Evoque please call Action Car Rental at 646-650-2500 or visit the company's online rental center at http://www.actioncarrental.com.
About Action Car Rental
Action Car Rental is New York City's leading independent car rental agency. With eight locations in New York City, New Jersey and Philadelphia, Action Car Rental provides business and leisure travelers with a wide variety of rental vehicles, including luxury cars and hourly rentals. Visit http://www.actioncarrental.com for more information.