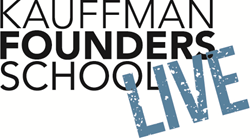 (PRWEB) June 30, 2014
Whether it's creating a unique product, building a synergetic team or convincing customers in a matter of seconds, founders have enormous amounts of initial tweaking to do to be successful. Silicon Valley venture capitalist Bill Reichert takes entrepreneurs inside these issues and what he calls "the art of the start" at a free Kauffman Founders School Live presentation on July 2.
Reichert brings an extensive background as an entrepreneur to the table, which includes co-founding Trademark Software and Academic Systems, and serving as managing director at Garage Technology Ventures, which he co-founded with Guy Kawasaki in 1998. Drawing on his own experience pitching to investors, Reichert will offer advice on how to quickly and concisely convey the essence of a company in just a few seconds and the need for a compelling "wow" statement. He also will discuss new rules for successful innovation and entrepreneurship and "The Top Ten Lies of Entrepreneurs."
The event is open to the public and will take place on July 2 at 10:15 a.m. CDT at the Kauffman Foundation Conference Center, located at 4801 Rockhill Road in Kansas City, Mo. In addition, the Kauffman Founders School Live event will be live streamed at http://www.entrepreneurship.org/founders-school/live.aspx.
Kauffman Founders School is an online educational resource dedicated to entrepreneurship. Its expert lectures and rich curriculum — giving individuals the skills and tools to build the next big thing — enables entrepreneurs to learn anywhere, anytime. Visit http://www.kauffmanfoundersschool.org for more information.
About the Kauffman Foundation:
The Ewing Marion Kauffman Foundation is a private, nonpartisan foundation that aims to foster economic independence by advancing educational achievement and entrepreneurial success. Founded by late entrepreneur and philanthropist Ewing Marion Kauffman, the Foundation is based in Kansas City, Mo., and has approximately $2 billion in assets. For more information, visit http://www.kauffman.org, and follow the Foundation on http://www.twitter.com/kauffmanfdn and http://www.facebook.com/kauffmanfdn.
# # #