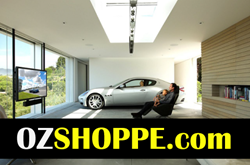 The initial launch will be targeted for residents and property owners around the Doncaster East and the surrounding areas.
(PRWEB) June 30, 2014
The portal will be launching an online LED lighting shopping service which will offer a full range of products for sale, as well as a new health segment specially catered for the people in Australia.
LED lighting is a highly beneficial option for homes and corporate spaces. This is because LED technology is a lot more energy efficient, thereby consuming lesser electricity than conventional lighting methods. Unlike traditional technologies like fluorescent and incandescent lights, LED lights consume at least 50% lesser energy, which means lower utility bills will be incurred. Besides that, P10 LED video display systems and digital system have become more popular in recent years as they are more economical and effective in Australia.
Through OZShoppe, home and commercial space owners can now enjoy a hassle-free method in shopping for LED lights at the convenience of their fingertips. There will be a full range of LED lighting modules and components available on the portal.
The initial launch will be targeted for residents and property owners around the Doncaster East and the surrounding areas. This will then be further expanded to other locations around Melbourne, and eventually to other parts in Australia. For the launch, there will be a special promotion on all LED products. The prices posted at OZShoppe are for a limited period of time and are all below the market price. Customers are encouraged to take advantage of this promotion as they will not be able to find prices this low for LED products anywhere else. However, for those who missed out on the promotional period, they can still purchase LED lights and bulbs through OZShoppe at a later time where the prices are always lower and more cost-effective than any others.
There will be a broad range of indoor and outdoor LED video display or digital billboards available for sale through OZShoppe. This is a very economical option for display and marketing, particularly for retail outlets and media owners. All the Australian LED video display systems can be easily customized and programmed to suit the customers' needs, which can provide a great platform for advertising.
Apart from that, there will be a full range of LED tube and LED bulb in Melbourne as well. These products will be ideal for home owners as they are the best options to replace the current set of lighting units. The LED tubes and bulbs purchased through OZShoppe are of the best quality in the market. As such, customers can rest assure that they are buying the most reliable and best LED bulbs and tubes in the market.
As part of this promotion, customers who purchase above ASD 50.00 will be entitled to enjoy free delivery to their doorstep. Where required, installation can be arranged as well. All Australian LED products purchased through OZShoppe come with a 3-year warranty against manufacturer's defect. Faulty products will be exchanged on a one-to-one policy with no questions asked.
Another aspect of this new launch is on the health segment of the portal. With immediate effect, the health segment will now be available and activated to offer the most comprehensive and beneficial resource for families. The new segment will cover a concise guide and collection of resources for the health and general well-being of the people around Australia. At this new segment, members can now browse through advice from the experts, the latest Australian health and fitness tips, diet programs, nutrition and minerals, and dangerous diseases and how to avoid them among others.
New members who register with the new health segment will be given free health product vouchers, compliments from Usana Health Sciences, one of the top health supplement product manufacturers in the world. The vouchers can be used to purchase some of the top products offered by Usana that include the BiOmega III fish oil, the award-winning Usanimals for children, and a broad range of skin and personal care products.