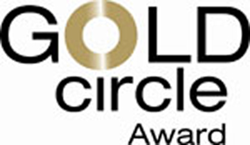 In addition to the Gold Circle Award, the series of branding print ads was chosen Best of Show and a Gold Winner in the 31st Annual healthcare Advertising Awards.
Rolling Meadows, Ill. (PRWEB) July 02, 2014
The American Society for Dermatologic Surgery has won a 2014 Gold Circle Award for its national branding campaign that touts members' expertise in skin health and beauty.
The American Society for Association Executives presented ASDS a top award for "the best new branding campaign" – one that defines and communicates a clear, compelling identity; makes a positive first impression that is easily and lastingly remembered; and builds on a current positive perception.
The ASDS branding campaign stresses a simple, yet effective message: "From aging skin to skin cancer, choose an ASDS dermatologist." The multi-channel campaign positions ASDS member dermatologists as the physician specialist of choice for all skin care needs, both medical and cosmetic.
ASDS representatives received the award June 17 during the ASAE Marketing, Membership & Communications Conference in Washington, D.C. Nearly 200 submissions from associations and nonprofits were judged, the most in the organization's history, with fewer than 20 awards distributed. ASAE represents more than 10,000 associations worldwide.
In addition to the Gold Circle Award, the series of branding print ads was chosen Best of Show and a Gold Winner in the 31st Annual Healthcare Advertising Awards program this spring, with the ASDS digital marketing ads named a Silver Winner. The campaign's web videos also earned an honorable mention award in the 2013 MarCom Awards.
"ASDS is honored to have our branding campaign recognized in these prestigious competitions," said ASDS President Mitchel P. Goldman, M.D., who served as chairman of the Society's Branding and PR Work Group during the campaign's development and launch in 2013. "Our comprehensive approach with a focus on digital media is making great strides to advance ASDS member dermatologists as the skin experts."
The campaign includes digital media and print ads; a marketing toolkit for members that includes tabletop signs, fliers, patient newsletters, videos, digital ads and other materials; and a referring physician's toolkit with patient education trifolds and a physician education skin cancer DVD to connect ASDS members with nearby referral sources.
Since the campaign's launch in summer 2013, ASDS has experienced growth in Internet traffic and time spent on its website, plus an increase in patient referrals to members, Goldman said.
"The launch of the branding campaign was an exciting moment in our Society's history, and the growth in traffic and referrals is testament to the campaign's success," said Goldman. "Never have we taken the message of our expertise and scope of practice to consumers in such a targeted and cost-effective manner. We are honored to be recognized for our efforts."
About ASDS
The American Society for Dermatologic Surgery (ASDS) is the largest specialty organization exclusively representing dermatologic surgeons who have unique training and experience to treat the health, function and beauty of your skin. ASDS members are pioneers in the field. Many are involved in the clinical studies that bring popular treatments to revitalize skin and fill and diminish wrinkles to the forefront. Their work has helped create and enhance many of the devices that remove blemishes, hair and fat, and tighten skin. Dermatologic surgeons also are experts in skin cancer prevention, detection and treatment. As the incidence of skin cancer rises, dermatologic surgeons are committed to taking steps to minimize the life-threatening effects of this disease. For more information, visit http://www.asds.net.
Follow us:
Website: http://www.asds.net
Follow ASDS on Twitter: http://www.twitter.com/ASDSSkinExperts
Become a fan of ASDS on Facebook: https://www.facebook.com/ASDSSkinExperts
Locate a dermatologic surgeon in your area: http://www.asds.net/findadermatologist.aspx
Contact:
Beth Bales
Communications Manager
American Society for Dermatologic Surgery
847-956-9143