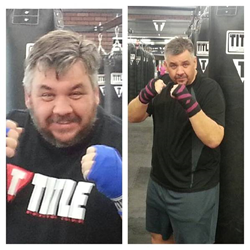 I could feel my heart, mind, and soul getting stronger and healthier because I believed in myself. - Mike Harvey
Oklahoma City, OK (PRWEB) June 30, 2014
Homeland Grocery Stores is reaching out to Oklahoma residents age 18 and older to participate in the company's second annual "Get Healthy Challenge", sponsored by Title Boxing Club. The Homeland Registered Dietitian, Alyson Dykstra, developed the challenge and says, "Homeland is excited to host our second Annual Get Healthy Challenge. Last year we had great success with our winner losing over 70 lbs in 16 weeks. Not only were 300 lbs shed across our contestants, but cholesterol scores were lowered as well as blood pressure and glucose. Being a part of the Get Healthy Challenge is a life changing event."
The Homeland Get Healthy Challenge is a comprehensive, long-term commitment to provide Customers with the education and resources they need to make sustainable, healthy decisions for both themselves and their families. The 2014 contest will unite community members as they work together to reach their health goals during the 14 week challenge.
The challenge will begin on October 25th, 2014 and will kick off with a two day Wellness Camp which will consist of two days personalized instruction on meal planning, fitness and other behaviors needed to begin a healthy lifestyle. During Wellness Camp, contestants also receive a baseline screening and education on key biometric numbers so they can track their health improvement.
After Wellness Camp, contestants will meet with the Homeland dietitian at their local store to apply their nutritional know-how as they purchase healthy food to restock their pantry.
On January 17th, 2015 contestants will participate in the Freeze Your Face Off 5K race where contestants will compete alongside community members and demonstrate how far they have come in their commitment to better health. The challenge will end on January 31st, 2015 at the grand final event where one contestant will receive the Grand Prize of $5,000.
Mike Harvey won last year's challenge by losing nearly 70 pounds in 16 weeks. Wellness camp began on his 40th birthday and he saw that as the perfect time to change the course of his life by becoming healthy. Harvey says, "I found the power in myself to push harder than I have ever pushed. I found the sense to say no to bad habits and yes to new good ones. I could feel my heart, mind, and soul getting stronger and healthier because I believed in myself. I didn't have to win the money because I knew I had already won something so much better. I had changed my life and was starting to regain my health."
Dykstra says, "We are looking for motivated individuals ready to make a life style change. We are looking for individuals who want to be health ambassadors for their community and family." To apply to be a contestant in the Get Healthy Challenge go to http://www.homelandstores.com/Promotions.aspx or visit http://homelandgethealthychallenge.wordpress.com/registration/. All applications and entry photos must be submitted by August 31st, 2014 at 11:59 pm CDT.