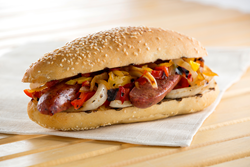 Fireworks won't be the only thing on fire!
Oklahoma City, OK (PRWEB) July 01, 2014
Fourth of July is a day of fun in the sun, cooking on the grill, and spending time with family and friends; therefore M.I.O. has supplied the perfect recipes for this occasion. Before fireworks light up the sky, light up the grill with Smokin' Hot Sausage and Pepper Subs paired with Smoked Corn Pudding. For dessert, Made in Oklahoma Coalition has supplied a patriotic recipe for Red, White and Blueberry Shortcakes with Honey Cream.
M.I.O. has brought together seven Oklahoma based companies to help prepare this meal: Mountain View, Daddy Hinkle's, Andrew's Honey Bees, Hiland Dairy, Suan's, Shawnee Mills, and Head Country.
Smokin' Hot Sausage and Pepper Subs
Fireworks won't be the only thing on fire with this scorching sub!
Ingredients:
8 Mountain View Meat Company Sausage Hot Links
2 red bell peppers
2 yellow bell peppers
1 yellow onion
2 teaspoons olive oil
2 tablespoons Daddy Hinkle's Instant Meat Marinade (liquid)
2 teaspoons Andrews Honey Bees Cream Honey
1 tablespoon balsamic vinegar
Kosher salt and coarsely ground pepper, to taste
Hoagie-style buns for 4 sandwiches
2 tablespoons Hiland Dairy Butter
¼ cup Suan's Scotch Bonnet Pepper Relish
Preparation:
1. Heat outdoor grill to medium heat.
2. Quarter bell peppers and onion. Rub with olive oil.
3. In a medium bowl, combine Daddy Hinkle's marinade, honey, vinegar, salt and pepper. Set aside.
4. Place hot links on grill, about 8 inches from the heat. Cook 8 to 10 minutes, turning frequently to prevent burning. At the same time, grill peppers and onions, about 2 minutes on each side or until tender.
5. Remove from heat. Cut each sausage lengthwise. Slice peppers and onions into strips. Place hot links and peppers and onions in bowl with the Daddy Hinkle's mixture. Spoon mixture over all coating thoroughly.
6. Place buns on grill to lightly toast, about 1 minute. Remove from heat and spread inside each bun with butter.
7. Fill each bun with hot links, peppers, onion and Suan's Scotch Bonnet Pepper Relish.
Smoked Corn Pudding
Ingredients:
4 ears corn, husks and silks removed
1 (14-ounce) can cream-style corn
1 cup Hiland Dairy Sour Cream
1 package Shawnee Mills Corn Muffin Mix
½ stick Hiland Dairy Butter
1 teaspoon Head Country All Purpose Championship Seasoning
1 cup shredded smoked cheddar cheese
Preparation:
1. Preheat oven to 350 degrees.
2. Using a sharp knife, remove kernels from ears of corn. Place kernels in a large bowl, and stir together with the cream-style can corn, sour cream, corn muffin mix, butter and Head Country seasoning. Pour into a greased 9-by-13-inch baking dish. Bake for 45 minutes or until top is golden brown.
3. Remove from oven and top with smoked cheddar. Continue to bake 5 minutes or until cheese is melted. Serve warm.
Red, White and Blueberry Shortcakes with Honey Cream
Independence Day cannot properly be celebrated without something red, white and blue!
Ingredients:
2 cups Shawnee Mills All Purpose Flour
3 tablespoons sugar
1 tablespoon baking powder
1/2 teaspoon salt
1/4 cup Hiland Dairy Unsalted Butter, cut
1 cup Hiland Dairy Milk
2 pints strawberries, sliced
1 pint blueberries
1 tablespoon freshly squeezed orange juice
1 ½ cups Hiland Dairy Heavy Whipping Cream
¼ cup Andrews Honey Bees Cream Honey
Preparation:
1. In a large bowl, combine flour, sugar, baking powder and salt. Add butter using a pastry cutter or two forks, until mixture resembles coarse crumbs. Gradually stir in milk until a soft dough forms.
2. Drop the dough into eight mounds on a lightly greased baking sheet. Bake in a preheated 425-degree oven for about 12 minutes, or until lightly browned. Cool on a wire rack.
3. In a small bowl, combine strawberries, blueberries and orange juice. Add sugar, according to taste, until sweetened. Set aside.
4. Pour the whipping cream into a large mixing bowl. Mix on medium speed until slightly thickened, and then turn to high, continuing to mix until soft peaks have formed. Stop the mixer, add honey, and continue to beat with the mixer until thoroughly combined.
5. Slice each shortcake in half horizontally. Place bottom halves on plates, then top with whipped cream and berries. Add a shortcake top to each.
About the Made in Oklahoma Coalition. M.I.O. is a state-run group that represents more than 40 Oklahoma food and agricultural manufacturers, who employ over 20,000 Oklahomans statewide. MIO's mission is to promote brand awareness and consumer loyalty for Oklahoma food and agricultural products. This is accomplished through collective marketing for the purpose of increasing sales, maintaining business retention and expanding Oklahoma's food processing sector. MIO, Good for Oklahoma. Good for you. For more information visit http://www.miocoalition.com.
###