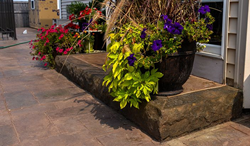 Morris, Illinois (PRWEB) June 30, 2014
Walttools is a premier manufacturer of Decorative Concrete Supplies whose products have been used in over 30 countries. Their lines include Tru Impressions texture tools, the Tru Tex vertical concrete line, Tru Tint stains, and the ultra-versatile Tru Pac line of specialty ad pacs.
In the old days of decorative concrete, when one needed stair risers or concrete edge faces to be textured to resemble stone it was a tedious process that only gave mediocre results. Thanks to ultra-realistic stone edge liners from Walttools, this process has changed dramatically and makes it easier for homeowners to improve their home's curb appeal.
The old process was typically started by carefully removing the plain step forms as early as the concrete would allow without caving in and then the face was scrubbed furiously with a float to create a pastier surface which could then be released and mildly textured with a concrete texture skin. This is all about critical timing, weather conditions and available labor. If one of those was missed, the only fix was to then apply a thin layer of overlayment the next day to which some texture could be added in for effect. Lastly some contractors may have created their own rudimentary liner by cutting up some of their existing concrete seamless skins and adhering to their form boards. All of this is very challenging.
Luckily for today's contractor, more modern methods changes all of this by replacing the old ways with easy to use stone faced step liners that create the look of real stone better than any other system available. To use them is fairly simple. In a nutshell, the contractor attaches the liner tools to the inside of their form work and pours the concrete. The results are concrete edges that are difficult if not impossible to distinguish from real split stone. Truth be told, they will a bit more involved in the process to ensure success but the major issues of timing and extra labor are gone not to mention that the looks achieved with these high quality step liners would have been totally impossible with the old methods. The 3D texture and depth produced by these forms provide the basis for a skilled decorative concrete contractor to knock it out of the park for their clients especially when finished with Walttools Tru Tint WB stains and professional grade concrete sealers.
Step liners can be found in various sizes and usually fit common lumber such as 2x6 and 2x8 pieces. Most can be easily cut on a miter saw for corners and even have the flexibility for curving around a reasonable radius. For the more creative contractor, liners and complimentary countertop edges can be combined to create striking bullnose designs.
Walttools step forms can also be used creatively in other projects such as heavy wall caps, benches, dramatic counter tops, and planters to name a few. For the projects where a heavy stone look may not be desired, Walttools is the only company that creates ultra-thin stone and slate texture liners that can be tacked to the insides for the forms to produce a mild, yet visually pleasing look to what would be an otherwise unremarkable step face. They even have one that turns concrete into brick if that is what you desire.
The investment by the contractor in step liners is a wise decision. They provide countless reuses, reduce labor and can net a cost of up to $25 or more per linear foot which means the investment can be paid off on one job and that job will earn more jobs just on the merits of how incredible those edges look. What the client gets are edges and or steps that are a fraction of the cost of the real thing. The decision is easy.
Tips for the contractor. If you are not in the practice of using form liners, do just that, practice. Do a few mockups. This will allow you to get used to calculating the proper framing and the steps needed to get great results. Also it will allow you to show potential clients what you can do for them.
Liners can be used with standard releases, color hardeners, acid stains, water base stains, etc. You should learn these options and what they can do for you.
To reduce repeating users can turn alternating liners upside down.
Seams can be addressed by simply rubbing them out if stripped early. If that is not an option then the next day, most seams are easily chiseled to be made invisible and can be further masked by applying a little bit of concrete paste. The best method on seams is to use a modeling clay to tailor the seams before you even pour. This allows you to match the texture and eliminate the connecting or corner seam altogether.
Using step liners are certainly a dramatic touch that is an easy addition to the decorative repertoire of any decorative contractor and will provide excellent curb appeal to the property owner.