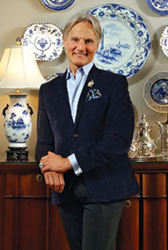 Doing my own painting is the most inexpensive and quickest way to change a room.
Rockville, Maryland (PRWEB) July 02, 2014
HOME & DESIGN's July/August 2014 issue focuses on inspiring ideas from local interior designers. It is packed with features that take you on an in-depth look at the homes of established area designers. Don't miss the fabulous finds in contemporary furnishings, flooring and illuminating new options for lighting. Other highlights include Private Tour, which visits Monte Durham, the host of TLC's "Say Yes to the Dress: Atlanta" in his longtime Alexandria home; Show House Dazzle, where the 2014 DC Design House infused a time-worn home with style and inspiration and Hot Talent, where five up-and-coming professionals bring a new perspective to the local design scene.
Below is an excerpt from the Private Tour article the host of TLC's "Say Yes to the Dress: Atlanta".
Monte Durham greets visitors with what can only be described as Southern hospitality. The West Virginia native is recognized wherever he goes for his high-profile role on the pre-nuptial reality show, yet his feet stand firmly on the ground—as well as in the beloved Belle Haven home he's shared with his longtime partner, Jakob Evans, for the last 20 years.
The 70-year-old house, a graceful, welcoming center-hall Colonial, perfectly reflects Durham's personality and style. It's traditional, brimming with 19th-century antiques yet punctuated by whimsical personal touches in the form of artwork and family heirlooms. It's also a labor of love: Over the years, Durham has put in much of the work on it himself. In fact, it only recently underwent a professional renovation, of which Durham and Evans are justly proud.
While Durham clearly has an affinity for interiors, fashion has always been his first love. He began his career as a personal shopper in DC, where he found that "women wanted someone who could tailor their clothes and do their hair," he recalls. "I said, 'I can't sew but I bet I can do hair.' So I got a hair degree in London, then came back and went to work as artistic director for Elizabeth Arden for 12 years," says Durham.
After styling hair for a bridal show in Tysons Corner, he discovered his niche. "I got booked with 12 weddings immediately," he says. "I was listed as most preferred for hair and makeup in Washingtonian in 2000. So I said, 'I think I better run with this!'"
Durham met Lori Allen, his TV co-host, when he did hair and makeup for her daughter's wedding, which was broadcast on WE TV. Allen, who owns a bridal shop in Atlanta, had been approached by The Learning Channel about hosting a spinoff of the New York-based reality show, "Say Yes to the Dress," in Atlanta. She brought in Durham, and the rest is history.
Further magazine highlights Graphic Edge, where David Mitchell plays up the masculine side of his revamped 1930s home in DC; Family Affair, where Eleanor Niermann's Annapolis retreat serves as a stylish testing ground for Niermann Weeks's next frontier; City Chic, where Lori Graham takes her vintage DC row house in a decidedly glamorous direction; Easy Rhythm, where Michael Roberson updates her Arlington residence with an eclectic array of art and collectibles.
Datebook keeps you abreast of the latest design and art happenings. As always, this issue's Indulgences section tempts you with the best of the good life in travel, toys, summer fashion and food. It's an issue you won't want to miss!
Enjoy!
24/7 design ideas at HomeAndDesign.com