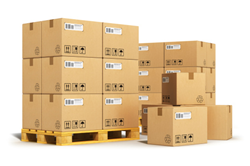 Atlanta, GA (PRWEB) July 01, 2014
AQuickDelivery, a recognized one-stop source for same-day delivery, messenger and transportation services in Georgia, announces new palletized freight cargo van deliveries. The same-day courier has made the announcement in efforts to market its line of courier service products, expand their current customer base, and increase sales growth. AQuickDelivery strives to be the best choice in same-day courier solutions throughout the Atlanta and Georgia areas.
The Atlanta courier offers locally the 2.5-hour regular service, the 1.5 hour rush service and its' popular direct service, which occurs within approximately an hour. Customers are able to request these services real-time and on-demand palletized freight cargo van deliveries. AQuickDelivery palletized freight cargo van deliveries are available for customers locally and long-distance throughout Georgia, even to other states. Orders can be placed via phone or online.
For cargo van same-day delivery, customer are limited to 2 pallets. A cargo van's area dimensions are 8" feet in length, 4" feet in width and 3" feet in height. As a result, standard-sized pallets that are 4 feet by 48 inches are ideal for cargo van usage. The palletized freight can not exceed the maximum weight is 9,500 pounds. With the specific measurements of a cargo van, AQuickDelivery will not exceed them and will decline any pallets that are beyond these sizes.
AQuickDelivery can also provide scheduled palletized freight cargo van deliveries. This can be provided on a daily and/or weekly basis, even on Saturdays. The advantage of delivering palletized freight via cargo van is the this vehicle option is the speed in which a customers freight can be delivered in comparison to a straight truck. Also, cargo vans are smaller and are overall more cost-effective. For any special cargo van delivery requests, customers are recommended to contact the AQuickDelivery sales staff via phone or via its' online customer support form. The courier service is available 24/7 to assist their customers with their various same-day freight delivery needs.
AQuickDelivery is a premier same-day courier offering transportation and distribution services. From small packages to palletized freight, AQuickDelivery delivers fast. As a leader in the courier industry, their goal is to perform optimal courier logistic solutions and superior customer service every time. The courier provides same-day delivery successfully for over 1,500 clients, including Fortune 500 companies.