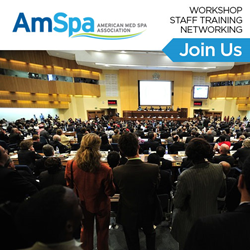 My co-workers and I received some extremely useful information on marketing, legal issues, sales and retention. I look forward to the next one...
Chicago, IL (PRWEB) June 30, 2014
Three new dates have been added to the American Med Spa Association's (AmSpa) event calendar in 2014 for their comprehensive medical spa workshop focusing on legal and regulatory issues while also offering successful business and marketing practices.
"The Southeastern Regional Workshop (held on June 9th in Atlanta) was a huge success thanks to AmSpa's partner Smith Moore Leatherwood, the dynamic presenters and wonderful exhibitors." Per Gina Meyer-Shaffer, Director of Marketing, "The feedback received was very positive and there was an overwhelming demand for more Workshops to be held throughout the country."
Committed to providing the most comprehensive and relevant training needed within the aesthetic and med spa industry – the following dates have been added for the additional regional programs:
September 20th – East Coast
October 6th – West Coast
October 27th – Midwest
The regional workshop(s) combine AmSpa's well-known focus on legal and regulatory matters with expert presentations on the business of aesthetics. Other relevant subject matters affecting the industry such as HIPAA and its application within a medical spa, how to use non-competition agreements successfully, public relations 101, how to sell and compete with injectables, OSHA compliance within a medical spa, how digital marketing can help you find, serve and keep more patients profitability and practical tips for opening and running a successful med spa are also covered.
During the program that is mainly for physicians, medical spa owners/directors and nurses there is a parallel track also held so that staff have the ability to learn and attend as well. This track is for staff to learn more about staff concierge and practice building to increase revenues. It is suited for the front desk, aestheticians, laser techs and cosmetologists.
"My co-workers and I received some extremely useful information on marketing, legal issues, sales, and retention," stated attendee Amy A. "I look forward to the next one and I really appreciated the information John Treadwell provided. He was also kind enough to take time out of his busy schedule and answer some questions about hosting an upcoming party. Thanks again."
After the workshop, all attendees, presenters and exhibitors have the ability to socialize during a two hour networking reception.
The American Med Spa Association (AmSpa) is a national association of med spa owners, physicians, nurses, estheticians and other industry professionals joined together to provide education, training and resources to the med spa industry. As the only association of its kind, AmSpa is dedicated to providing comprehensive, high quality training for nurses, estheticians and medical professionals across the country. AmSpa's goal is to ensure all med spas and industry professionals are properly trained and educated so that med spas operate in a safe and compliant manner.
For more information on the upcoming workshops, call (312) 981-0993.