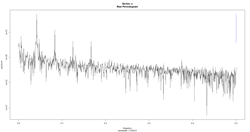 Whether it's a million sites in a Monte Carlo simulation or a million visitors to a website, the data analytics component is identical. - Dr. Evans Boney, PhD
El Segundo, CA (PRWEB) June 30, 2014
Having earned his Ph.D. in Theoretical Chemical Physics from Caltech (with a Nobel Laureate as his advisor), Dr. Boney is ready to apply his skills in the real world of e-commerce - helping CandyWarehouse advance its positioning both online and off as America's premiere source of bulk candy, nuts, unique party supplies (including a vast variety of scoops, glass and plastic candy jars and bags) and colorful party decorations (balloons, piñatas and pomp oms). Dr. Boney joins CandyWarehouse after developing hbartutoring.com while in graduate school, an in-home tutoring service that also helps operate the Academy program at the Institute for Educational Advancement.
"It's great to have Evans in charge of our marketing efforts," says founder and President Christopher Pratt. "He likes candy, gets excited about big data and is just crazy smart. We have seen marginal sales year-over-year increase markedly in the months following his hire."
For his part, the newest elf to the team is undaunted by the vast scope of possibilities for this Internet Retailer Top 600 private business – having already added experimentation across every device type, changed CPC and product bidding strategies, tagged all existing traffic, augmented its social media presence (check the Facebook page!), added a PR campaign, and added several remarketing efforts on Facebook and Google. No stranger to multi-tasking or overachievement, Dr. Boney was a Graduate Student Council Chairman at Caltech and played varsity basketball while pursuing and graduating with degrees in Chemistry and Physics at the Massachusetts Institute of Technology (MIT), and a minor in Math. "A third degree in 8 semesters isn't allowed anymore at MIT," says Dr. Boney with a chuckle.
"It sounds like a huge leap from Chemistry Theory to Candy," says Dr. Boney, "but my office at CandyWarehouse has two huge Einstein posters, and my daily job is very similar: run computer experiments, interpret large novel data sets, and make actionable decisions. All of our users participate daily in our effort to make our website the most appealing possible. It is through the help of our users and their participation in our omnichannel cross-platform experiments that we are able to constantly be improving our website and our business. Whether it's a million sites in a Monte Carlo simulation or a million visitors to a website, the data analytics component is identical. For instance, I made a Candy Spectrum of our visitor frequencies." (see figure)
When Dr. Boney is not crunching big data, he enjoys dabbling in acting – having appeared in the cult classic "The PhD Movie" as Mike Slackenerny and tapped for that role again in the recently announced sequel.
Recognized for the past several years by Internet Retailer Magazine as a top 600 private company, the elves at CandyWarehouse.com are currently fulfilling summer orders and eagerly awaiting supplies of Candy Corn and Gummy Boogers for the busy season leading up to Halloween (look out for a new candy announcement about that soon!). Additionally, under Dr. Boney's leadership, CandyWarehouse has begun experimenting with new materials and packaging to solve the problem of candy melting during long summer ground trips. A video documenting those efforts is expected next month.
About CandyWarehouse.com, Inc.
Since 1998, CandyWarehouse.com has been the world's top online bulk candy store, providing popular and hard-to-find as well as nostalgic and the latest-trend candy delivered fresh and fast to customers both domestically and internationally. The company sells to businesses and individuals and carries more than 7,000 varieties of candy, candy-related products and party supplies.