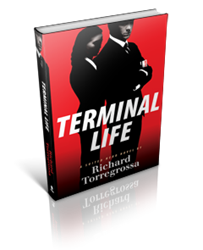 "This should come with a warning: whatever you're expecting, this isn't it…as the novel builds to its blood-soaked finale, the action becomes poetic, voluptuous."—Booklist
Longboat Key, Florida (PRWEB) July 01, 2014
TERMINAL LIFE: A Suited Hero by Richard Torregrossa is now available in hardcover (ISBN: 978-1-60809-120-1, Thriller, 256 pages, $26.95) and all digital/eBook platforms (ISBN: 978-1-60809-121-8, $14.95)
Richard Torregrossa, best known as the author of the acclaimed CARY GRANT: A CELEBRATION of STYLE, and journalist whose works have appeared in The Financial Times, Newsday, The New York Post, The Chicago Tribune, Self, Cosmopolitan, and many more print and online publications, has penned his debut thriller, TERMINAL LIFE. Torregrossa, a first-degree black belt, employs his vast knowledge of martial arts and men's fashion to give life to his TERMINAL LIFE protagonist, Luke Stark, A Suited Hero.
The Story...
Luke Stark, a Special Forces veteran, returns home from his second tour in Afghanistan to learn that his wife has been mysteriously murdered and his son has disappeared. These tragedies, in addition to suffering from post-traumatic stress disorder, push him over the edge. He has also been diagnosed with an incipient form of cancer, but he forgoes treatment, a decision that is akin to a slow suicide.
Although he lives in a shelter, he wears an impeccable suit, an eccentric characteristic that sets him apart from his fellow down-and-outers and just about everybody else. He is nicknamed, somewhat ironically, The Suited Hero.
Revenge and the search for his son spark a kind of rebirth in him that is as cathartic as it is brutal. This leads him into the dangerous world of illegal prescription drug distribution, where nobody in this gripping mystery crime thriller— not even some family members—is who they appear to be.
The Buzz...
"Terminal Life: A Suited Hero Novel is the first in a fascinating series of planned books featuring antihero Luke Stark. The tension and breakneck pace begin on the first page and refuse to relent until the very last. Noir with originality and a unique twist."
—New York Journal of Books
"Nonfiction author Torregrossa (Cary Grant: A Celebration of Style) makes his suspense debut with this violent, action-filled series opener. Fans of men-of-action straight-to-video movies will best appreciate this one."
—Publishers Weekly
"Elegant and completely original. This sleekly genre-bending thriller is like nothing you've ever read. It's sinister and disturbing, but still heart-breaking."
—Hank Phillippi Ryan, Mary Higgins Clark, Agatha, Anthony and Macavity award winning author of THE WRONG GIRL
"Introspective noir. Almost metaphysical in its subtle understatement. But make no mistake, it is vastly entertaining. That rare breed. A thinking person's artistic, vivid entertainment."
—Ken Bruen, best-selling author of PURGATORY
"A sharp hero and his strong motivations pull this noir story along at a swift pace."
—ForeWord Reviews
"Those who crave an action-packed thriller with a generous seasoning of noir will gobble up this debut...this exudes full-on adrenaline with plenty of cinematic scenarios (exploding tanks, etc.). Book 'em, Danno!"
—Library Journal
"Terminal Life is a riveting, fast-paced, action-packed thriller."
—Fresh Fiction
"This should come with a warning: whatever you're expecting, this isn't it…as the novel builds to its blood-soaked finale, the action becomes poetic, voluptuous."
—Booklist
TERMINAL LIFE is available through your favorite bookseller, and is distributed by Midpoint Trade, Ingram, Baker & Taylor, OverDrive, and all fine literary distributors.