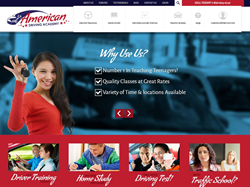 "If you're going to compete," said Hughes, "you have to have a sharp, user-friendly site that is usable on all devices and optimized for search engines. Our new design meets those needs."
Colorado Springs, CO (PRWEB) July 01, 2014
Ken Hughes, owner of American Driving Academy, approached Power Plant Media after a three year search for a web design company. Like many owners, he found that his 8-year-old website was ineffective in the current online market. It was largely text based, poorly organized, and hard to navigate on mobile devices. Looking to redesign the site, Hughes talked to freelancers working from home or out of the back of retail locations; he looked into huge PR firms; he even considered making his own site after what seemed to be a fruitless endeavor.
Enter Power Plant Media. The growing web design firm in Colorado Springs sat down with Hughes one-on-one, laid out a plan for creating compelling web content, and provided the assurance he needed that he could count on them to optimize and maintain his new site for years to come.
"If you're going to compete," said Hughes, "you have to have a sharp, user-friendly site that is usable on all devices and optimized for search engines. Our new design meets those needs."
Like many business owners, Hughes realizes that the first exposure most customers have to a business is the website. Not only does the website need to look professional, it needs to be easy to navigate and accessible on any device. So Power Plant Media did more for American Driving Academy's online presence than just a new logo and design; they gave it a more functional flow, a responsive design to meet the needs of mobile users, and improved payment systems.
"Before this redesign, our web strategy was hit and miss," said Hughes. "We had a site, but it wasn't user-friendly, and it wasn't the center of our marketing strategy. Power Plant helped us to dramatically improve the overall online experience for our customers."
Power Plant Media has established a reputation for effective web design and development in Colorado Springs. By focusing on the experience of users—no matter how they are accessing a site—Power Plant creates a strong visual experience while optimizing a site for usability and search engine results.
"We now have one of the best websites out there," said Hughes. "Other companies will have to play catchup."