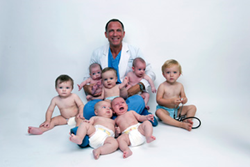 Stamford, CT (PRWEB) July 02, 2014
New England Fertility, one of the oldest fertility centers in the New York City metropolitan area, is making IVF (in vitro fertilization) more accessible with the introduction of, what they believe to be, the most affordable IVF in the United States.
The new plan, The IVF Discount and Financing Plan, offers a comprehensive IVF package, and with optional 12-month, zero percent, in-house financing.
"We are committed to helping people," Gad Lavy, MD, the founder and medical director at New England Fertility, says. "And we have decided to step up and demonstrate that commitment through offering what we think is the best priced package in the country."
The package cost is $9,975 with monthly payments of $415.63.
"IVF is an expensive investment for most people, and prices have been climbing," Lavy says. "Our goal now is to give people access to this important science, the science that is going to be necessary for them to realize their biggest dream."
The doctor has been helping couples, singles, and same sex couples from the New York City metropolitan area and from overseas for over 20 years. He was trained in reproductive endocrinology at Yale University in New Haven, CT.
New England Fertility is most well-known for their egg donor and surrogacy program, helping many patients from New York State where surrogacy is illegal. But the center does a substantial number of IVF cycles every year, mostly for those living in Fairfield County.
The practice recently opened a new office in Danbury, CT.