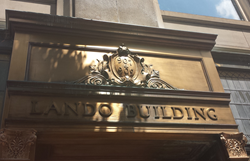 Lando Lofts is the first high rise building to provide tenants with 100% LED lighting - passing the savings onto the renter.
Pittsburgh, PA (PRWEB) July 03, 2014
The newest luxury loft-style apartment building downtown, Lando Lofts at 909 Penn, is making history by becoming the first to utilize 100% LED lighting. While homeowners have made the change in their houses and commercial office buildings have done the same – it appears to be a first for a high rise rental apartment building in America.
While many developers put LED lighting in the hallways to reduce operating costs, developer Todd Palcic thought he should go green and give the tenants the opportunity to live sustainably as a renter. "We know that with our prime location and high end finishes, we will attract a resident with an above average IQ. Intelligent people understand the opportunity to save money and not worry about changing out bulbs in a loft with 15' ceilings." Palcic plans to pursue LEED certification but doesn't find it critical – "What could be more green than taking a vacant 100 year old office building and resurrecting it by filling it with people who will walk to work, use the bus and subway system and if they need to go in a hurry – Lyft and Uber car service plus ZipCar all provide sustainable and economic access to anywhere in Allegheny County.
While most developers see the lighting as the renter's responsibility and prefer to save money on inexpensive conventional lighting, the new generation of sustainable-minded millenials and boomers could change what management companies offer. LED lighting provides users with an estimated 85% and 45% reduction in energy expenses compared to incandescent and halogen/CFL, respectively.
Lando Lofts at 909 Penn is a development of Penn Ave Renaissance III, LP and will be managed by Millcraft Realty Services.
For more information go to http://www.LandoLofts.com or info(at)landolofts(dot)com.