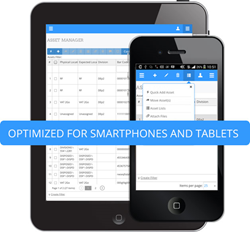 "Our customers track and manage millions of assets each day across complex environments. We are proud to extend VAT's robust reporting tools in a way that delivers real-time, actionable data to customers in the field." - Kenneth Ratton, Radiant RFID CFO
AUSTIN, TX (PRWEB) June 30, 2014
Today, Radiant RFID's hosted Virtual Asset Tracker customers received VAT 6.0, a major software upgrade that makes keeping track of dynamic assets faster and easier than legacy systems. The newly released version features a modern, responsive user interface that is optimized for browsers, tablets and smartphones; improved search across assets, departments, locations and people, and faster performance
Virtual Asset Tracker (VAT), an end-to-end RFID solution that features web-based modules for asset tracking, departmental transfers, notifications, and custom reporting. By RFID-enabling asset management systems, VAT customers can inventory equipment quickly and accurately with far less effort than manual or legacy systems.
The solution easily integrates with customers' existing management software via Radiant's web services API, providing significant visibility into asset location and movement within existing ERP systems including Oracle, SAP, Sage, SunGard, and others. Radiant's smart device application, VAT2GO, can be used on any iOS or Android device and allows users to utilize existing hardware for better asset tracking and management.
During an audit, VAT quickly reports what assets are assigned to, located within, or missing from an area. This information enables administrators to quickly and accurately reconcile inventory and account for item movement from department, floors and across facilities − saving time and money while fostering a culture of reuse.
Kenneth Ratton, Radiant chief financial officer, said, "Our customers track and manage millions of assets each day across complex environments. We are proud to extend VAT's robust reporting tools in a way that delivers real-time, actionable data to customers in the field."
About Radiant RFID
Radiant RFID, LLC provides complete solutions that keep track of the world's most dynamic assets. Headquartered in Austin, Texas, Radiant's customers include large corporations, educational institutions, and public agencies. Radiant's solutions are designed specifically for IT asset management, emergency management and education. For more information call (512) 351-4915 or visit http://www.radiantrfid.com.
# # #